Wiper makes conversations more secure, offers on-demand chat deletion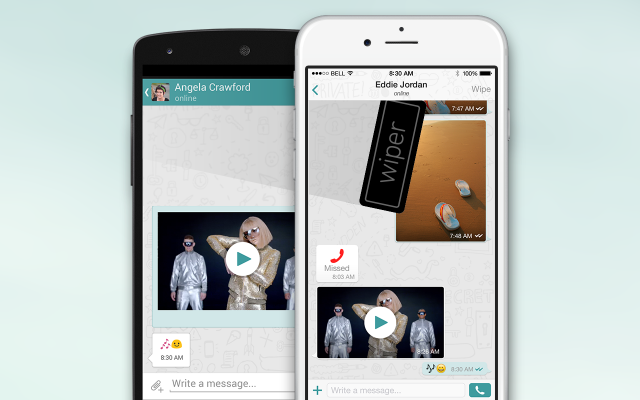 Today, there is a messaging service for just about anything and anyone. The core features are pretty much the same across the board, however. Where they differ is mostly in the way those features are implemented. For instance, you can chat with others using any messaging app, but not all offer encrypted conversations or delete your messages after they're received. The devil is in the details, as always.
Despite all the different options available today, there is still room for new messaging services to make their mark. Wiper is among the new up and coming players, with its main highlights being the option to delete conversations everywhere, on-demand, and provide secure HD video chats.
Having the ability to delete conversations across all devices is much more flexible than having your messages deleted automatically after they are viewed by the other person. When that feature, called Wipe, is leveraged, conversations are deleted from your device, Wiper's servers and your friends' devices too, so you are really not leaving a trace somewhere.
But in case the person you are chatting with decides to take a screenshot or share one of your photos with other folks, Wiper will let you know. At least right now, that's in stark contrast to Snapchat, which has many third-party clients that are not quite so transparent.
Wiper says that all messages and calls made through its service are encrypted end to end. Calls are free across the globe. The audio quality is said to be superior of that of "regular" calls.
Another interesting feature that Wiper offers is searching, sharing and viewing YouTube videos in the app, which means that you will not have to leave Wiper to look at a video your friend just shared with you. It can come in handy. And, if you want to call that friend, you can keep chatting via texts at the same time.
These are all features nice to have in a messaging app, but I do have to wonder whether users of other messaging services will view them as attractive enough to jump ship. When virtually everyone in a group tends to use the same messaging service (Facebook Messenger, WhatsApp, iMessage, whatever), it is tough to get everyone on board with such a change, especially if the rest are linked to other people who also use that respective messaging service and do not want to switch.
Wiper is available to download from Apple App Store (iOS) and Google Play (Android).