Windows 10 Technical Preview Build 9879 arrives -- here's what's new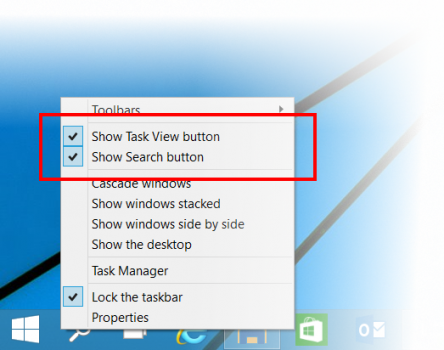 If you're using/testing the preview version of Microsoft's operating system as one of the million+ "Windows Insiders", get ready for a big update. Build 9879 is arriving today and will be with you shortly, if it isn't already.
Microsoft's Gabe Aul has provided a handy run through detailing all of the major changes, but one of the big additions is the ability to hide the Search and Task View buttons on the taskbar. That will please my colleague Mark Wilson who hates them. You'll be able to toggle those off just by right-clicking the taskbar and disabling them in the context menu.
There are some minor cosmetic changes to the new OS too, such as the introduction of a "hamburger" button in Modern apps (replacing the three dots) which will give users access to the options.
The minimize and restore animations for apps introduced in the last build proved to be unpopular with testers, so they have been replaced. Some icons have been swapped in the new build also.
OneDrive syncing has been tweaked, so it's now selective. You choose what should be synced to your PC. You can also now get to OneDrive through File Explorer. Right-clicking the OneDrive icon in the notification area will give you access to settings where you can configure everything.
The new build lets you pin favorite folders to Home in File Explorer and you can now use Snap Assist when snapping apps across multiple monitors. Microsoft has introduced some new three finger gestures for precision touchpads. These are:
3 finger up -> Task View
3 finger down -> Show Desktop
3 finger flick to left or right -> switches to previous app (go back 1)
3 finger move left or right -> Alt-Tab (Task View) pops up and you can select the app you want (remove fingers to select)
3 finger tap -> Search
Native MKV support has been made "more complete" in this build so you can now play MKV files in Windows Media Player and thumbnails and metadata will be shown in File Explorer.
Finally, Microsoft will be releasing each new build as an ISO, but there will be a delay between a build being made available to "fast track" testers, and everyone else.
This will be the last build of 2014, so expect the next release to be a sizable one when it rolls out in early 2015.
Are you still using Windows 10 Technical Preview? What do you think of the latest changes?