New Windows Phone 8.1 Update 1 preview build adds extra features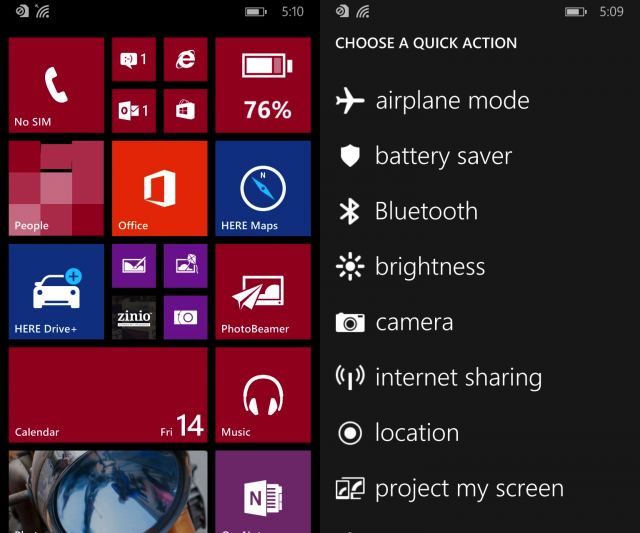 Microsoft has released a couple of Windows Phone 8.1 Update 1 builds for devices enrolled in the Preview for Developers Program. Virtually all changes have been made under-the-hood, as Microsoft has seemingly focused on refining the user experience and enabling, rather than introducing new features.
Now though, we have a new Preview for Developers build -- still Windows Phone 8.1 Update 1, version 14203.306 -- which adds a number of very useful user-facing features, some of which you might want to take advantage of right away.
We have two new Battery Saver-related features. The first is a notifications center toggle for the battery saver mode, which lets you quickly enable and disable the battery saving feature built-into the operating system, as well as toggle between the battery saving options.
That is extremely convenient. The toggle will automatically update to reflect the configuration of Battery Saver, which is to be expected, indicating its state (on when the battery is low, on until the next charge, always on, and, obviously, off). There are still a maximum of four toggles that you can use though.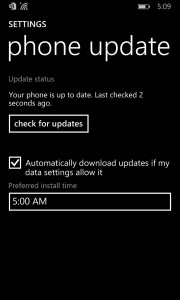 The second is the live tile for Battery Saver. (Previously, the app has had a static live tile.) Through the latest update, it gets the ability to display the battery percentage. It may not sound like much, but it is a welcome change, especially for those who cannot easily see the battery percentage in the status bar (it also adds some extra pop to the homescreen).
The new feature that Preview for Developers testers may appreciate the most is the option to choose at which time they would like their smartphone to install an update (pictured in the screenshot above). The setting can be configured in the phone update menu, under Settings. You can, for instance, set it so that a new update installs at night, so when you wake up in the morning it is already up and running, which is handy if you do not want to interrupt your workflow.
If you have yet to enroll in the Preview for Developers program, you can join by following these instructions.