Microsoft and HTC offer free Xbox Dot View cover to HTC One (M8) for Windows owners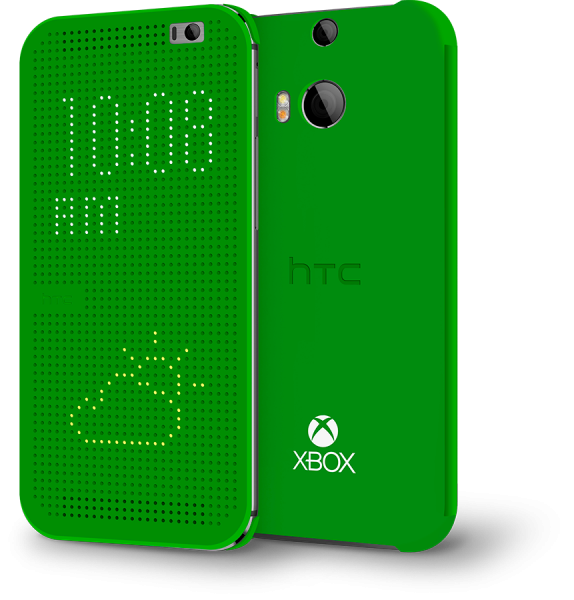 HTC knows how to make great devices; both the One (M8) and Nexus 9 are looked at favorably by the Android community. However, the HTC One (M8) for Windows is built as equally well as its Android brother, since it is essentially the same hardware. The difference is, the "for Windows" variant runs Windows Phone operating system. Which you prefer is ultimately a personal preference, but I think both are rather great.
Today, however, the HTC One (M8) for Windows get a super-cool exclusive from Microsoft and HTC -- an Xbox Dot View cover. Yes, the super useful and attractive cover is now available with a green paint-job and the Xbox logo. To make things even better it is free! However, like most free things, there is a catch.
"HTC is kicking off a pretty awesome promotion today: If you a purchase a new HTC One (M8) for Windows from Verizon, AT&T, or T-Mobile you can get a free Xbox-branded Dot View cover. To take advantage of this offer, all you need to do after purchasing your HTC One (M8) is visit this website to redeem your free Xbox Dot View cover ($50 value). The promotion runs now through the end of January 2015. Anyone who purchased a HTC One (M8) for Windows from November 1st through the end of January 2015 will be eligible for this promotion!", says Brandon LeBlanc, Microsoft.
LeBlanc further explains, "I absolutely love the Dot View cover on my HTC One (M8) for Windows. The Dot View cover gives you instant phone access while the case is closed. You can invoke Cortana through the Dot View cover to have her remind you of something you need to do or see how long it'll take for you to get home. You can also answer calls and see email and text notifications, check the weather and time, and access volume controls -- all through the Dot Cover. I have the orange Dot View cover for my HTC One (M8) for Windows -- but hoping to get my hands on Xbox Dot View cover -- the green looks glorious! What a slick way to show off your love for Xbox!"
I must agree with Mr. LeBlanc -- the case is downright sexy. Gamers in particular will go gaga over the opportunity to own this collectible. Sadly, the catch is, it is only available to people that bought the phone after November 1. This is disappointing, as Microsoft and HTC are leaving out the early adopters. Also, it seems like it will not be available for sale, and will only be available through the online redemption form here.
Even though the cover is designed for the Windows Phone variant of the One (M8), it will work on the Android version too. Since many fans of Google's mobile OS are also Xbox owners, these limited-edition covers may be very popular on sites like eBay for owners of both variants of the phone
Do you think the Xbox Dot View cover is sexy or ugly? Tell me in the comments.