Stick your tablet on the railroad tracks with the Griffin and Rail Yard Studios tablet stands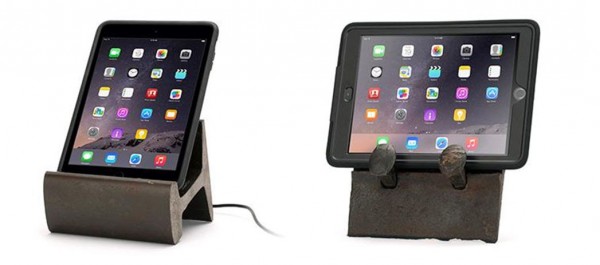 As a child, I was obsessed with the railroad tracks. We lived very close to them, so it was a great place to hang around with friends and pass the time. One of our favorite things was to put pennies on the tracks so they would get flattened. Sure, it was a silly thing, but to a kid, it is the coolest thing ever.
Now that I am an adult, hanging out on the tracks would be weird, as that is mostly reserved for grown-ups that are up to no good. Luckily, thanks to Griffin, I can now relive my youth with the all-new Rail Yard Studios tablet stands. You see, these are made from actual decommissioned railroad steel!
"Griffin Technology, one of the world's foremost creators of innovations for everyday life, has partnered with Rail Yard Studios, creators of unique custom furniture made from historic century-old railroad steel and hardwood timbers, to construct two exclusive tablet stands. Fashioned from reclaimed rail stock installed on the original Louisville and Nashville Railroad between 1906 and 1908, the Rail Slice Tablet Stand and the Rail Artifact Stand celebrate the rich history of the original superhighway -- the railroad", says Griffin.
The company further explains, "each stand is built to hold a full or mini sized tablet in both landscape and portrait orientation. Rail Slice Tablet Stand is a piece of decommissioned rail with a milled cavity to accommodate a charging cable and allow the tablet's speakers to project sound without obstruction. Rail Artifact Stand is created from two antique railroad spikes with a tie plate that was used to hold the railroad together".
Are they practical? No, it is probably overkill for a tablet stand. However, it is a cool piece of history that should last much longer than mass-produced plastic junk. Quite frankly, it should make quite the conversation piece when guests come to your home. With that said, the $129 price tag makes it quite the expensive tchotchke.
Will you buy one of these stands? Tell me in the comments.