Convert eBooks/Office documents to PDF with Icecream PDF Converter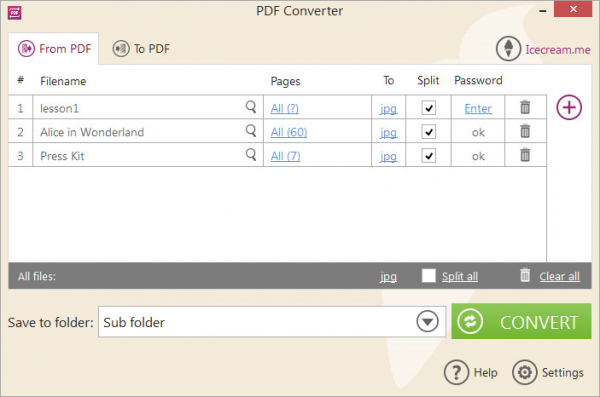 Utilities developer Icecream Apps has released Icecream PDF Converter, a capable tool for converting a range of file formats to and from PDF.
There are plenty of similar applications around, but what's interesting here is most conversions are handled in the background by a bundled copy of Open Office.
Although this bloats the installation size to a near 250MB, it brings immediate benefits in file format support, with Icecream PDF Converter converting Office documents (DOC/ DOCX, XLS/XLSX, ODT, ODS), images (JPG, PNG, BMP), ebooks (EPUB, MOBI, FB2) and HTML pages to PDF.
Conversions from PDF are more basic, with the program extracting all or selected pages to JPG, PNG, BMP, TIFF, GIF, EPS or WMF.
Fortunately you don't get to see Open Office for any of this, with Icecream PDF Converter being controlled from a simple and own straightforward interface. Choose your conversion type (to or from PDF), set a few conversion options (page ranges to convert, optionally merge input files into a single PDF),  select the Output folder and you're done.
This didn't always work for us. One test PDF had its images missing from the original DOCX, and we had significant problems converting to HTML (that is, some of our test files didn't produce anything at all).
If you've tried this kind of program before, though, you'll know such issues are very common, and we're not at all surprised to find a bug or two. Most of our conversions delivered excellent results, as you'd expect with Open Office as the conversion engine, and if you need this kind of tool then Icecream PDF Converter is worth a look.