Windows Phone gets official Duolingo, WolframAlpha apps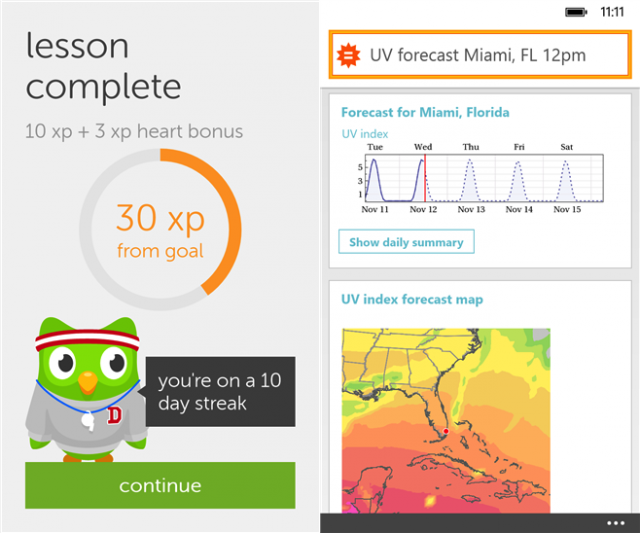 The app-gap is still not a thing of the past for Windows Phone Store, but, fortunately, things are getting better. There already are lots of third-party alternatives -- some of which are quite good -- to many prominent apps. And, thanks to the functionality enabled by Windows Phone 8.1, it is possible for more types of apps to launch, like Fitbit and Microsoft Remote Desktop.
The biggest progress, however, is made when well-known developers launch their apps on the platform. This week Windows Phone scores big, as both language-learning app Duolingo and computational engine WolframAlpha make their appearance in Store.
Duolingo is designed for those who wish to learn English, French, German, Italian, Portuguese and Spanish. You advance by completing lessons; failing to answer correctly results in losing hearts (points). Progress can be tracked in the app, and Duolingo claims to adjust to your learning so you improve the more you use it.
For those who are not familiar with it, WolframAlpha works similarly to a search engine. You make an inquiry and it will apply its algorithms to the information it can interpret to give you a result. For instance, "aluminum melting temperature" yields a result of 660.32 degrees Celsius (1220.6 degrees Fahrenheit).
It can interpret data in a wide range of areas, like history, music, geography, linguistics, dates, astronomy and so on. In the current iteration, the app does not come with Worlfram|Alpha Pro features, like personal analytics.
Both Duolingo and WolframAlpha are only compatible with Windows Phone 8.1, based on their Store descriptions. Duolingo is offered as a free app, while WolframAlpha costs $2.99. The latter is a universal app, meaning it works across Windows Phone 8.1 and Windows 8.1 devices (and you only have to pay once for it).