Alienware Alpha is the next-gen console ready to take on PS4 and Xbox One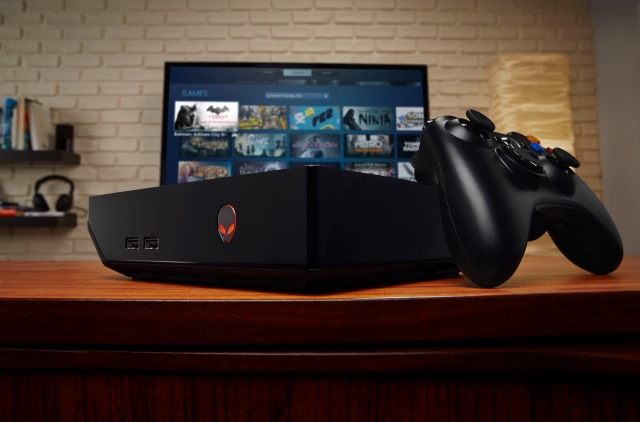 It must be coming up to Christmas; Alienware, the game-focused arm of Dell, is beginning to ship its new gaming console. The Alienware Alpha is described as the world's first PC gaming console, and it has been designed to blend the power of a gaming rig with the ease of use of a console. With prices starting at $549, gamers have the ability to customize their hardware to suit their needs. The Alpha runs Windows 8.1, and it includes either 4GB or 8GB of RAM, as well as a USB adapted Xbox 360 controller.
The price of the console is bumped up for anyone opting to increase the size of the hard drive or speed of the processor, but the aim here is to blow the Xbox One and PS4 out of the water with raw power.
In all there are four models available. Moving up from the base model involves increasing the hard drive capacity from 500GB to 1TB, and doubling the RAM from 4GB to 8GB while retaining the same 2.9GHz i3-4130T Dual-Core CPU -- this will set you back $699. Pop in a 3GHz Intel Core i5-4590T Quad-Core processor and the price increases to $799, while upgrading to a 2TB hard drive and 3GHz Intel Core i7-4765T Quad-Core processor bumps it up to $899. In all models, graphics are catered for by an NVIDIA GeForce GTX GPU 2GB GDDR5 card. Frank Azor, General Manager of Alienware, said:
We've been working hard this past year to break the mold and develop a system that finally brings hundreds of Steam games, including some really fun indie titles, to TVs. The team and I are excited to finally deliver our vision for big screen gaming and give our fans a console that delivers true next-gen performance with the flexibility to choose how, what and where they want to play.
Alienware is keen to tempt gamers away from the competition, and early adopters placing orders will be treated to a batch of free games including Awesomenauts and Magicka.
Like the Xbox One and PS4, the Alienware Alpha is more than just a console, and the Alpha UI can be used to access movie and music libraries. While this side of things can be controlled using the Xbox 360 controller, the fact that the console is powered by Windows 8.1 means that it functions as a desktop PC with a keyboard and mouse, as well as being an entertainment device for the living room. Find out more and customize your console at the Alienware Alpha website.