Philips launches full HD display with easy one-plug access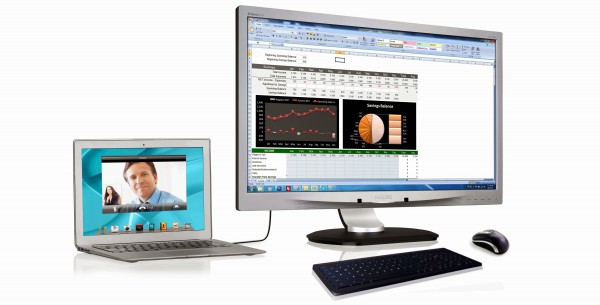 Anyone who's tried to connect a notebook to a big screen for use in meetings or presentations knows it can be a process that's fraught with difficulty, particularly when it comes to finding the right connection and cable.
The latest release from electronics giant Philips solves this problem by offering simple, one-plug access to desktop equipment, networks, intranet and internet via a single, super-speed USB cable.
The 231P4QUPES may lack a catchy name but it does have a 23-inch full HD display. This offers extra wide 178 degree viewing angles making it ideal for meeting rooms, plus a 90 degree pivot so it can be used portrait or landscape.
It also has Philips' PowerSensor technology that can detect if nobody is in front of the screen and automatically reduce the brightness.
Its big draw though is connectivity. It has an integrated Ethernet port and two USB 3.0 ports as well as one USB 2.0. This means users can plug in their notebooks to the monitor for immediate access to all the IT resources connected to the display, which can include printers, external drives, camera, keyboard or mouse. All the peripherals remain connected to the monitor ready for immediate use -- so there's no need for separate docking stations. Via USB 3.0 connection it's possible to stream video and connect to networks and the internet.
The display is available now with a recommended price in the UK of £239 (around $375).