Select random files in Explorer with Random Selection Tool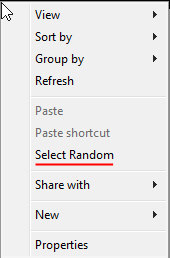 Launch Windows Explorer and typically you'll have some specific task in mind: a particular folder you need check, some files you'd like to open.
Occasionally, though, your requirements might be a little more vague. You want to watch a video, maybe, or play some music, but you don't know and can't decide which files to choose.
Enter Random Selection Tool, a small and simple Explorer extension with a single purpose: to randomly choose items from the contents of a folder.
Setup is very easy. Run RandomSelectionTool.exe as an administrator and click "Add…" to install the extension to Explorer. If you'd like to remove it later, run the program again and click "Remove".
As a test, open Explorer and browse to any of your user folders with a lot of content: Documents, Music, Pictures, whatever. Right-click the folder in the left-hand pane -- not the right -- and click the new "Select Random" option.
RandomSelectionTool then selects something from the contents of that folder -- either a file, or a folder -- and the right-hand pane should be updated to display it.
(If you don't see the "Select Random" option, or no file was selected, then restart your PC, or try one of your drive root folders, like C:\Program Files.)
You can now treat that selection as though you made it yourself, opening it, copying it to the clipboard, whatever you like. Or, if you need multiple files, right-click and "Select Random" again to select a second file, a third, and so on.
This is all very basic, and quite limited. We couldn't use it to select files in a File > Open dialog, for instance. And there's no way to restrict or control the selection in any way, so while you might want to choose from 100 MP3s, the program is just as likely to pick a subfolder, or some JPEG cover art.
Still, it's small, simple, and uses no resources beyond its 36KB disk space, so if you can think of an application for Random Selection Tool then it's probably worth five minutes of your time.