PowerArchiver 2015 adds new Explorer preview extension, tweaks user interface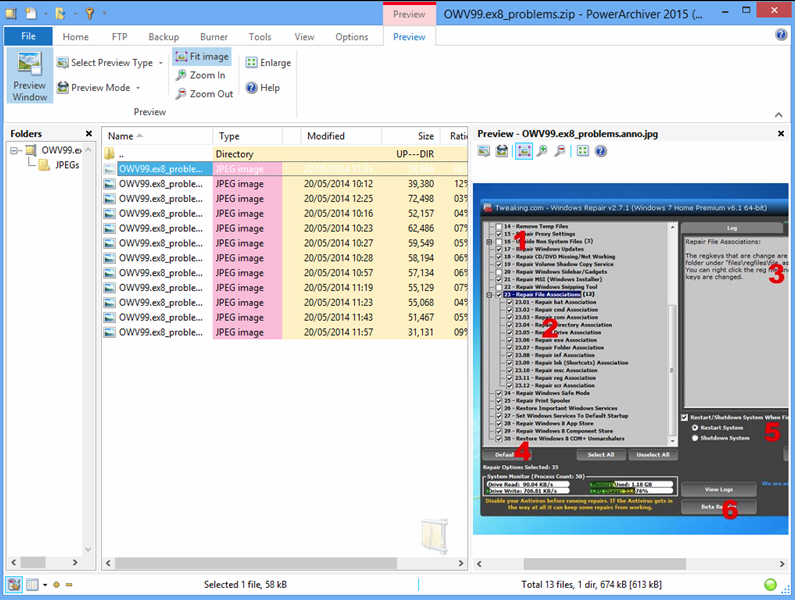 ConeXware has unveiled a huge update to its Windows archiving software in the form of PowerArchiver 2015 v15.0. The paid-for tool offers support for a wide range of archiving formats presented in a user-friendly interface.
Version 15 focuses on delivering a large number of shell extension updates -- including new PowerArchiver Mini tool -- as well as interface changes, support for new formats, new skinning system and improvements to various supplementary apps.
The headline new feature in PowerArchiver 2015 is the new PowerArchiver Mini shell extension, which extends key parts of the program to Windows Explorer via its Preview window. This allows users to not just preview archives, but also open individual files and extract archive contents.
Other shell extension additions include a Windows Explorer Tool tip providing archive properties, a preview extension for PowerArchiver itself and the promise of improved format detection and support across all shell extensions.
The main program adds full support for the ZIP/ZIPX XZ format, plus improves support for other formats, including ISO, RAR and WIM. Files can now be copied and pasted to and from the PowerArchiver main interface.
A new skinning system -- with six skins included -- makes it easier to change the look and feel of the program, while PowerArchiver 2015 also implements the Office 2013 File menu alongside a new View tab on the program's ribbon interface.
PowerArchiver can now be configured to always sit on top of other windows, and a Join Tool has been added to the Converter tool allowing users to combine several archives into a single file.
The update also comes with the promise of numerous updates and enhancements to its companion apps, including Encryption Suite, PowerArchiver Backup, PowerArchiver FTP and PowerArchiver Cloud.
PowerArchiver 2015 v15.0 is available now as a free trial download for PCs running  Windows 2000 or later. The full version comes in a number of editions, with prices starting from $22.95 for the Standard edition.