RootsMagic 7 adds automatic Web Hints, improves problem-fixing tools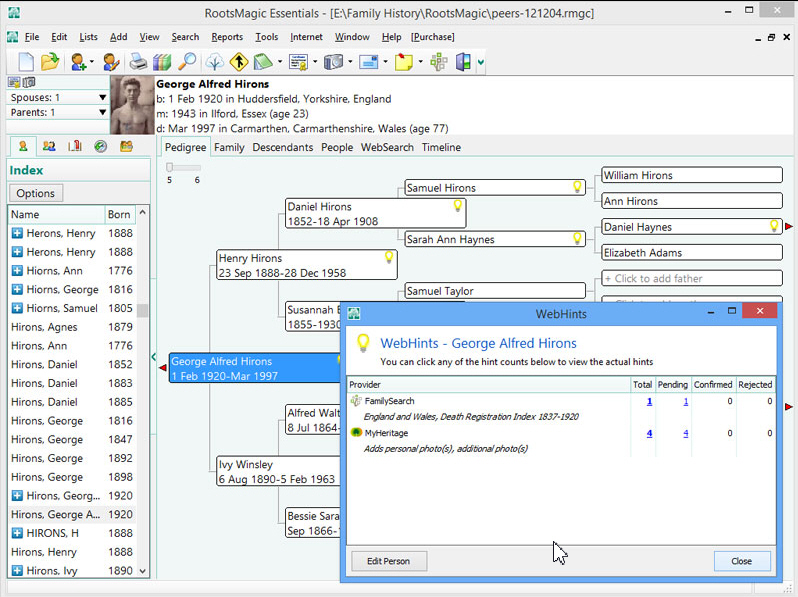 RootsMagic, Inc has launched RootsMagic Essentials 7.0, a major new version of its free (and paid-for) genealogical tool.
Both free and paid-for versions gain a new Web Hints feature that automatically suggests record matches from a number of online websites, while paid-for users also gain a number of other useful tools and improvements.
The new Web Hints feature allows RootsMagic to claim the prize of being the first app to offer multi-platform record hints, but it's worth noting it's currently restricted to just two online repositories: FamilySearch and MyHeritage. When potential matches are found, users will see a light bulb appear next to the person's name.
Clicking this reveals the number of potential matches at each site -- users then click on the number to view actual hints and then decide whether or not to incorporate them into their own research file. Sadly, confirming hints from MyHeritage requires a paid-for subscription to the service.
Those who upgrade to the full version of RootsMagic gain a number of additional new tools, including support for publishing and maintaining multiple online trees through the free MyRootsMagic online service, all of which can be managed from a single screen.
A new DataClean tool provides a one-stop shop for interrogating user files for potential problems -- users choose which types of problem to search for, then can review (and approve) any suggested changes made.
Also added to version 7 is support for comparing two RootsMagic databases side-by-side, with options for transferring data between the two files. Users can also import lists of selected facts, sources and other data from one file to another too.
A new QuickGroups feature allows users to organize individuals into specific groups based on selected criteria, such as people still marked as living or those born in a specific place.
Media improvements include support for dragging media files from Windows Explorer into a person's media screen for adding quickly. Users can now also back up their media files alongside the main RootsMagic database.
RootsMagic 7 Essentials is a free download for PCs running Windows 2000 or later – Mac users can now run RootsMagic natively using the paid-for MacBridge for RootsMagic 7 program, which is currently on sale for $9.95. The full version of RootsMagic 7 can be unlocked from within RootsMagic Essentials for $29.95, while existing version 6 users can upgrade for $19.95.