Hub It: An essential, fully customizable sync and charging station for all your devices [Review]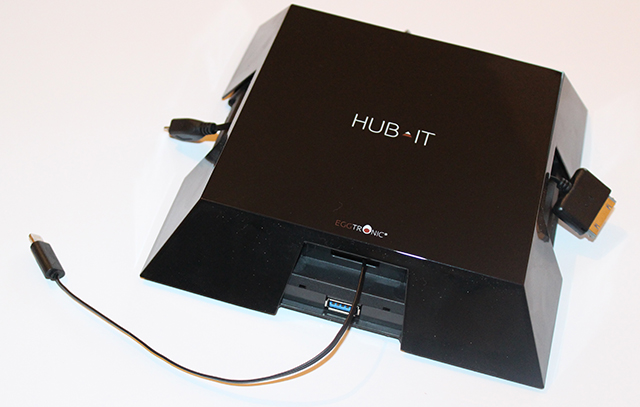 Many of us own multiple devices that charge or are powered via USB. Even though many PCs come with at least two or four USB ports these days, and USB charging adapters that plug into wall sockets are commonplace, that may not be enough. In other words, you may occasionally find yourself needing to charge something, without a spare USB port, or a cable for the task -- especially if you live in a house with teenagers. If all devices used Micro USB life would be simpler, but sadly, they do not.
This is where Hub It comes in. It's a powered sync and charging station that can power/charge up to seven items simultaneously, and includes connectors for all of your devices, including smartphones, tablets, iPhones and iPads, and digital cameras.
It's a large squat block (170mm x 170mm x 34mm), not unlike a pyramid with the top lopped off. On three of the sides, there are USB 3.0 ports (Type A). On the fourth side, is a port for power, and a connector so you can link Hub It to your PC. In addition, on all four sides are connectors for different devices. It comes with connectors for Micro USB, Mini USB, Apple 30 pin (as used by older Apple devices) and Apple Lightning. So no more hunting around for cables when you want to charge or connect something.
What's particularly great about Hub It, is these connectors are in hot swappable cartridges, so you can choose which ones to use. If you don't own any Apple products, you can remove the two Apple connectors and replace them with more Micro USB ones, for example. Replacement cartridges cost $7.99 plus shipping, but you're not limited to the four types included by default. There are also cartridges for Nintendo handhelds, wireless Qi charging (coming soon), Samsung Galaxy tablets and so on. Browse the selection at www.eggtronic.com.
Swapping the cartridges is just a matter of popping the top of the device off using the clips underneath, and then pulling out a cartridge. Inside, there are actually nine slots for cartridges, although five of them are designed for future functionality -- such as installing a battery cartridge (so you can charge devices when away from mains power) and wireless charging.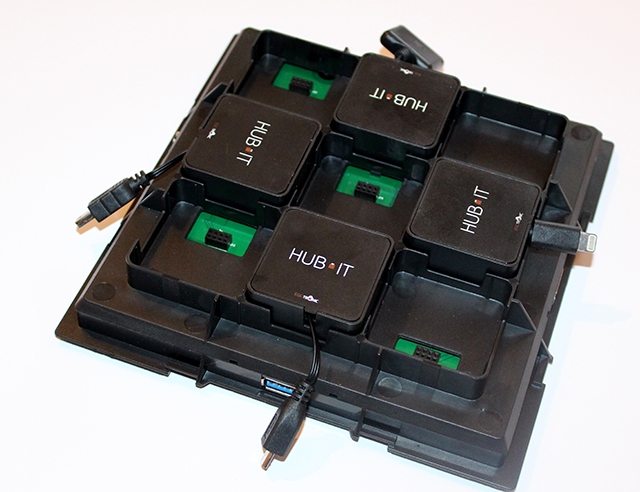 The other clever design thing about Hub It is the connector cables are all retractable, so everything is kept neat and tidy when cables are not in use.
The firmware is upgradeable (download and install the new firmware directly from the website), and the device delivers 20W of Output Power.
Although I own several powered USB hubs, Hub It has become an essential addition to my desk. As I write this, it's charging an iPhone 5s, and Nexus 7. To ensure maximum charging, you're advised to temporarily disconnect Hub It from your PC.
In the week or so I've been using Hub It, the only problem I've encountered is with the Lightning connector which wouldn't charge my iPad or iPhone. I moved the connector's cartridge around, removed and reinserted the connector into the iPad several times, and now it's charging fine. Whatever the problem was seems to have gone away. All of the other ports and connections are working without issue.
Hub It costs $79.99 and is available from Amazon, Best Buy and Walmart. You can find out more from the Eggtronic website.
If you need to charge or connect a diverse range of devices, the Hub It should definitely be on your wish list, and I can't recommend it highly enough.