View and convert EPS/ PS files with EPS Viewer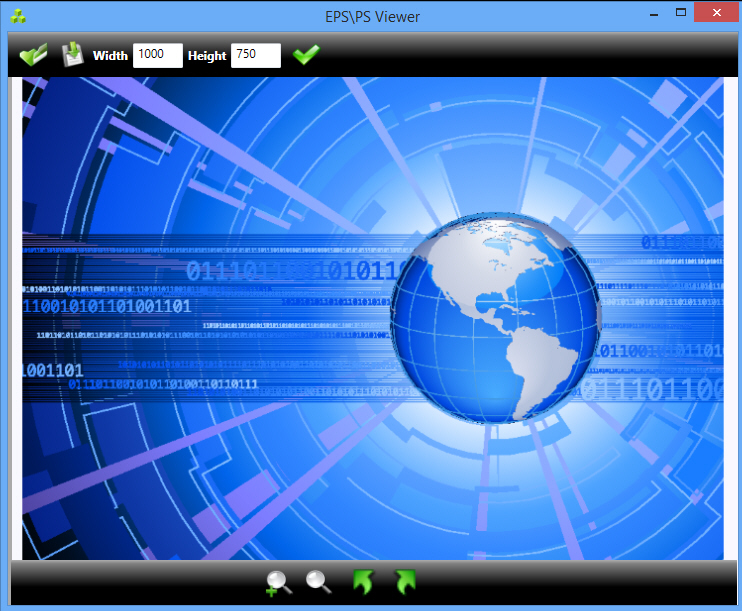 Adobe's Encapsulated PostScript (EPS) is a powerful graphics format which first appeared almost 30 years ago, so you might have expected there to be plenty of viewers around by now. But no: it's so horribly complex that most image viewers either ignore the format entirely, or offer basic support, but with very unreliable results.
There are specialist tools which claim they're different. The free EPS Viewer not only displays EPS/ PS files, but can also convert them to a few bitmap formats (JPEG, PNG, GIF, TIFF). Is it really better than the leading image viewers, though? We grabbed a test copy.
EPS Viewer automatically associates itself with EPS files on installation, without asking first, which isn't exactly polite. Still, if you can't view EPS files right now then you probably won't care much, and the install is otherwise quick and easy.
Double-click an EPS file and it opens in a basic viewing window. You can spin the mouse wheel to zoom in and out, click and drag to pan around the image, or click buttons to rotate it left or right.
"Width" and "Height" boxes allow the image to be resized, if a little awkwardly. We typed a new value in the Width box, and nothing happened; pressed Enter, still nothing. Tab to the next field? No effect. But once you realize you have to click a green tick to the right, then the image resizes just fine.
A conventional "Save As" dialog then allows you to save the current image as a JPEG, PNG, GIF or TIFF file.
And that's about it: no thumbnail browsing, batch EPS conversion, or anything else at all.
If you think this sounds basic, then you'd be right, but EPS Viewer did at least carry out its core function very well, its Ghostscript-based engine displaying all our test files quickly and accurately.
To compare, we first pointed FastStone Image Viewer at some of our test images. It's normally an excellent program so we were expecting a lot, but surprisingly it failed to display any of them at all.
What about IrfanView? You need to install the program's plugins to view EPS files, and sure enough, once we'd done that, and rebooted, it could display our images. But, as can happen with EPS files, performance is a major issue. One image in particular took around 20 seconds to appear. EPS Viewer was generally around three times as fast, and if you're viewing something complex that's going to be very important.
Every EPS file is different, and we can't offer any definitive verdict here. But from our own experience EPS Viewer is better at displaying the format than some of the big name competition, and if you've had problems displaying EPS/ PS files before then it deserves a closer look.