Build full HD animated video slideshows with Cofeshow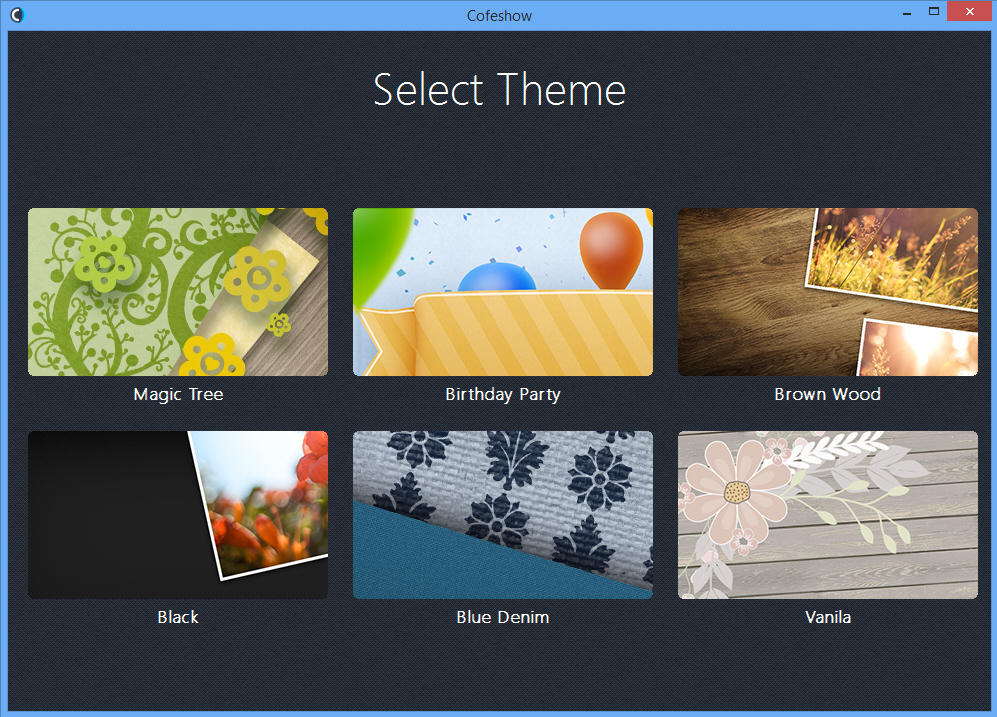 Cofeshow is a free Windows and Mac program for converting your chosen images into full HD animated video slideshows.
It's a familiar idea, but Cofeshow is a little different, and that became obvious from the moment we realized it was a 250MB+ download.
Why all this bloat? It wasn't immediately obvious. The wizard-like interface is incredibly simple -- no menus, no right-click options, no complex dialogs -- and more like an app than a full desktop application.
You only get six bundled templates, too. With themes like "Birthday Party", "Denim" and "Magic Tree" these are very much aimed at the home user, but there's also a neutral "Black" template which could work for any purpose.
Choose a template and Cofeshow begins to walk you through the process of creating your slideshow. You can add a soundtrack, individual images or an entire folder, maybe include a "Text Scene", a caption between photos, then drag and drop to order them as required.
One absolutely massive omission is you can't set the length of time a slide will be displayed, either globally or individually: you're stuck with the default 3-4 seconds. That's going to be a fatal problem for many, but there are plenty of other issues. You can't display captions over an image, for instance, and there's no way to match the slideshow to the length of the soundtrack.
And yet, if you can live with this, there's no doubt that Cofeshow can generate some very impressive video results, as your images smoothly slide into view, pan, rotate, fade in and out, all in a gorgeous full HD (1920×1080) or HD (1280×720) 30fps MP4. (Fitting in with the general lack of configurability, there are no other export options.)
Closer inspection reveals this is the source of the program's bulk, too. One template alone required 45.4 MB disk space for its various full HD videos.
Cofeshow is one of the most basic slideshow builders we've seen. The inability to adjust the slide duration at all is a major issue, and because the frame timing is an integral part of each template, it's hard to see how that's going to change.
This does keep Cofeshow very easy to use, though, and if you need full HD quality then the tradeoff may be worthwhile.