Opera 26 gains bookmark sharing and import, Print Preview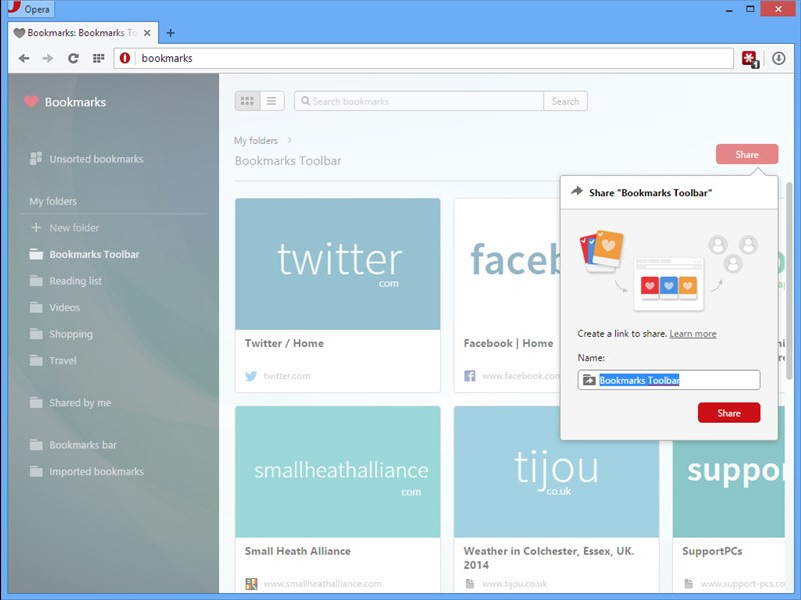 Norwegian browser developer Opera has released Opera FINAL 26 for Windows, Mac and Linux. Having finally introduced support for bookmarks in the previous update, Opera 26 allows users to both share bookmarks and migrate them across from other browsers.
Version 26 is also a landmark release for Linux users as it marks the first stable release of the new Opera browser on that platform -- note it only works with 64-bit builds.
Opera 25 saw the browser reintroduce bookmarks into the browser -- a move it resisted for over a year -- but having been reluctant to embrace the feature, has moved swiftly to make up for lost time by adding two major new options in this latest update.
The headline feature is support for bookmark sharing -- when browsing their bookmarks, users will notice a red 'Share' button inside folders. Clicking this invites them to create a public web link they can distribute to friends via copy and paste.
Bookmarks are shared for up to 14 days by default -- users can manage these settings via the 'Shared by me' folder, which can be found in the Bookmarks sidebar. From here, select a shared folder and click 'X' to stop sharing it. Alternatively, click 'Extend share' to push the sharing deadline further into the future.
The second new feature is support for importing bookmarks from other installed browsers -- accessible via the More tools > Import bookmarks and settings menu, users can import directly from Chrome, Firefox, Internet Explorer (Windows) and Safari (Mac), or load in a HTML file.
Also added to version 26 is a built-in Print dialog box, which works in conjunction with the default PDF viewer to deliver a Print Preview feature. Users also get to configure other print options: printer, page numbers, number of copies, layout, color, paper size, margins and whether to include headers and footers and margins.
Finally, the DuckDuckGo search engine has been added as an option to the default Search settings.
Opera FINAL 26 is available now as a freeware download for Windows, Mac and 64-bit Linux users.