Creator CI20 is an Android or Linux-powered Raspberry Pi competitor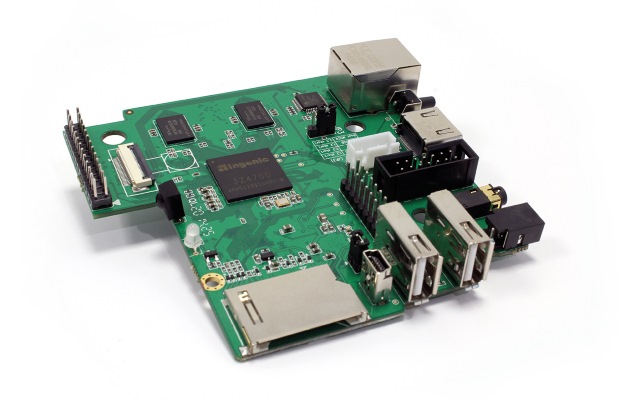 Small is beautiful, and this is something that the Raspberry Pi demonstrates perfectly. But now there's a little competition. The Creator CI20 is a new diminutive micro-computer which offers more power than an existing Raspberry Pi, as well as a choice of operating systems -- Android or Linux.
The company behind the barebones computer is another UK chip manufacturer, Imagination, and at just $65, it's a perfect stocking stuffer. Or at least it would be if units were going to ship before January 2015. Like the Raspberry Pi, the Creator CI20 is a fully loaded board designed for use in all manner of DIY computing projects.
Available to pre-order right now, the Creator CI20 boasts more storage, more memory and a faster processor than Raspberry Pi, and the choice of Android 4.4 or Debian 7 Linux is another string to its bow. It's already generating interest from the Linux community, with The Linux Foundation's COO Mike Woster saying:
The excitement around development boards is similar to the early buzz around Linux. Linux development boards, including the one introduced today by our new member Imagination Technologies, are exciting for hobbyists and students with limited resources, as well as extremely promising for engineers and designers during development and beyond.
For a micro-computer, the specifications are really quite impressive:
Processor: 1.2 GHz dual-core, MIPS32-based Ingenic JZ4780 SoC, 32kB L1 I- and D-cache, 512kB L2 cache
FPU: IEEE754 Floating Point Unit, XBurst MXU
Multimedia: PowerVR SGX540 GPU, hardware-accelerated video playback up to 1080p at 60 fps
Memory: 1 GB DDR3 SDRAM, 4 GB flash memory, 1 x SD card
Audio: AC97 audio, via 4-pin input/output jack and HDMI connector
Camera interface: ITU-R BT.645 controller
Connectivity: 10/100 Ethernet, 802.11 b/g/n, Bluetooth 4.0
Display: 1 x HDMI up to 2K resolution
USB: 1 x USB host, 1 x USB OTG device
I/O peripherals: 2 x UART, 25 x GPIO, 2 x SPI, I2C, ADC, expansion headers, 14-pin ETAG connector
Getting Android running on a MIPS processor is something that a team of engineers worked on "tirelessly", and hobbyists will be keen to get their hands on the device and put it to work in projects. Streaming media is an obvious, if basic, use but there is also scope for home automation and IoT applications. There's even a development platform, FlowCloud, which can be used to build apps.