Social networks reimagined as guys -- hipsters, businessmen and kooks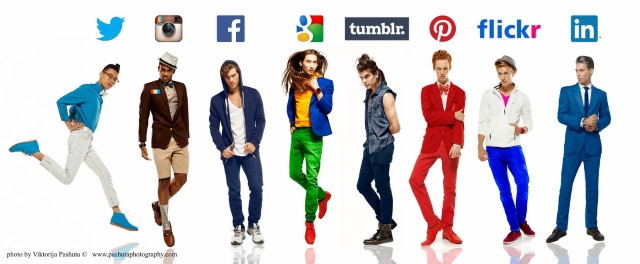 A little over a year ago, fashion photographer Viktorija Pashuta released images from a photo shoot entitled What If Girls Were Internet Browsers. It was a simple, fun idea in which Internet Explorer, Firefox, Opera, Chrome and Safari were given female personas and represented by models. Now Viktorija has a new project -- What if Guys Were Social Networks.
The idea's very similar to last year's project. Twitter, Instagram, Facebook, Google+, tumblr, Pinterest, flickr and LinkedIn are all anthropomorphized into eight men, each with their own unique look and personality. In the line-up of social networks, all of the major players are represented, but the new kid on the block, Ello, is notable by its absence.
Each character takes on the color palette of the social network they represent, and tries to convey the personality at the same time. Both Instagram and flickr have something of a hipster look and feel to them, while -- unsurprisingly -- LinkedIn is smart and besuited. Twitter is a little kooky and metrosexual, and Google+ stands out thanks to its primary color scheme. The full-sized photo gives a better view.
Pashuta says:
Working closely with the wardrobe stylist, Editor in Chief of Vanichi magazine and one of the models (featured as Instagram) -- together we finalized these looks, making sure we haven't overlooked any important details to make these characters believable. Even their personalities somehow appeared to be matching the 'soul' of the networks.
What do you make of the idea? Do Viktorija's visions of the social network as guys match your own?
Photo credit: Viktorija Pashuta