Mous Musicase: The iPhone case that puts an end to lost and tangled headphones [Review]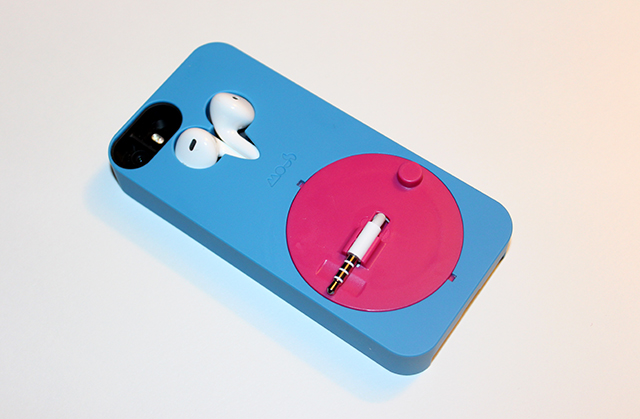 I use headphones to listen to music and games on my iPhone a lot. As a result, I often have headphones with me, either wrapped around my phone or just shoved in a pocket. Sometimes though I'll forget to take them when I go out, which can be a pain.
The successfully Kickstarter-backed Mous Musicase aims to solve this problem by integrating Apple EarPods into your iPhone so they're always at hand and you don't have to worry about them getting tangled or lost.
The case essentially provides a home for your headphones, with a winder so you can wind the headphones back in when not in use.
Although getting your Apple EarPods in looks like it might be complicated, it's actually very easy and just takes some slight assembly. You pull the cross piece out, insert the headphone jack through the mouse shape at the top of the case, and then poke the jack through the hole in the winder. Reattach the cross piece, add your phone and you're all done.
The Mous Musicase is really designed to be used with Apple EarPods -- the earbuds fit perfectly into the space provided. You can use it with other headphones, but it probably won't look as good or work as well.
The case itself is made of plastic with a choice of colors for both the case and the winder, and you can mix and match them however you like. I was sent the retro edition, which has the very 1980s color combination of pale blue and shocking pink.
There are cutouts along the case for the sleep/wake and volume buttons, and the speaker and headphone jack. There's also a hole for the camera.
Swapping the winder and removing your phone from the case is very simple, and the whole design works very well.
However, there is one major issue that some people may have with the Mous Musicase, and that's it adds significant bulk (but not weight) to your phone, doubling its depth. I like my phones to have a bit of heft to them, but even so, it takes some getting used to. It's not unlike carrying around an original iPod.
That's the tradeoff then. You can elect to carry headphones in a separate case or risk damaging them, or you can accept carrying around a much thicker phone with your headphones always at hand.
The case I have is for the iPhone 5/5s, but an iPhone 6 version is coming soon and will be slimmer with tapered edges, so the thinner phone will have a thinner case.
The cases are available in White, Black, Blue and (limited edition) Kickstarter Green, with winders in Dark Blue, Musicalize Gold, Pink, White, and Black. Prices start from £17, but will rise to £19 in the future. You can order one through the Kickstarter page here. You can also go to www.mous.co.