HERE online gets new features, Windows Phone apps receive update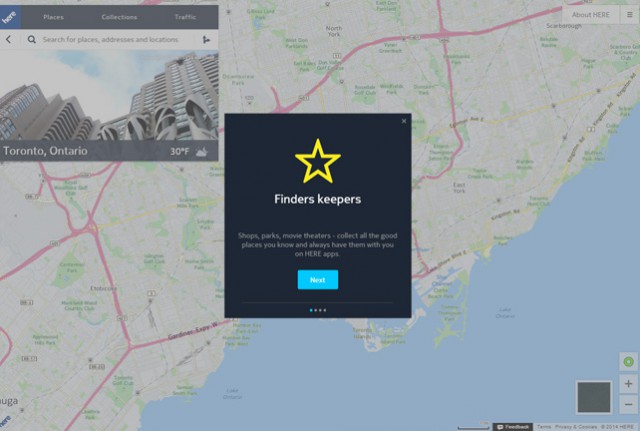 What is Nokia doing after ditching phone-making? The Finnish company is focusing its efforts on more lucrative endeavors, like HERE. Even though nowadays the brand is mostly associated with Windows Phone, Nokia also brought its well-known mapping software to Android and ramped up its efforts to make the web version more attractive as well.
The result of the company's work to improve the online version of HERE is said to be "a better, faster and stronger here.com", which packs some interesting, value-adding new features. However, there is also something in store (no pun intended) for Windows Phone users, in the form of an update which is available for HERE apps on the platform.
Here.com can now give you traffic information for you regular route, so you are better informed of traffic conditions in your area before you, for instance, leave work to get back home. Traffic is rated between free flowing and stopped (blue and red on the map); this feature is called Jam Factor. You have to create said route, and there has to be traffic information in your area for this feature to work. In my neck of the woods, the latter is, sadly, not yet offered.
The site now also allows you to easily "explore" nearby points of interest, which are shown in a Places tab on the site. You can also search for places which interest you, from the same tab. Every POI is displayed as a card, with a photo for those that have one.
The third big change that Nokia announced today is enhanced imagery for more locations across the globe, leveraging data from new services like Expedia and Foursquare. The company adds that the street-level coverage of HERE should improve as it adds more and more high-resolution images. The last bit is a weak point of HERE, at least in comparison to Google; the search giant has this bit nailed.
In contrast, the update for the HERE apps on Windows Phone is rather minor for most users, with the most easily-noticeable change being the transition from Nokia to HERE accounts in the app. If you already have a Nokia or HERE account, you are good to go (those with Nokia accounts can migrate their data). If not, you can create an account to save personal information, like favorite places and so on. The other general changes are performance and stability tweaks.
For some users, however, the update unlocks an important feature -- voice-guided navigation -- which is now also available in Algeria, Angola, Bangladesh, Burkina Faso, Côte d'Ivoire, Cyprus, Iraq, Libya, Mauritania, Mauritius, Nepal, Paraguay, Saint Helena, Senegal, Sri Lanka, Suriname, Zambia, and Zimbabwe.
This raises the tally of countries in which HERE voice-guided navigation is offered to 118. However -- and this is the only caveat to report -- Nokia says that not all roads in Angola, Bangladesh, Nepal, Senegal, Sri Lanka, Suriname, Zambia and Zimbabwe are fully mapped at this point.