File sharing in Google Drive and Docs just got easier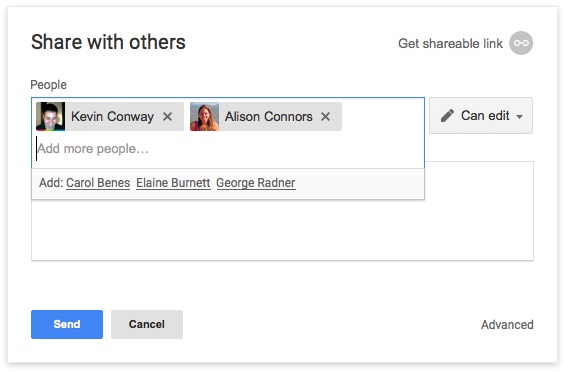 The gradual but relentless move to the cloud is about more than just making it easier to access files from multiple devices. For many people, particularly business and enterprise users, sharing and collaboration is more important. Today Google has made two small but important updates to Drive and Docs that makes file sharing easier than ever.
Now when you start to type the name of someone you would like to share a file with, you will see their profile picture alongside their name. This mimics the way things work in Gmail, and helps you to check you are selecting the right people.
In a post on the Google Drive blog, software engineer Lev Epshteyn, says: "This can come in handy when you need to confirm that you're inviting the right contacts, especially if you work with people that have similar names".
Another update which is inspired by Gmail is suggestions. Add two collaborators to a document and suggestions will appear for other people you might also want to consider including. Adding people that have been suggested is a simple matter of clicking their name, so you not only save time typing, but also get reminded of people you might otherwise have forgotten.
The two changes can be found in both Google Drive and all of the Docs editors.