Create instant Christmas mosaics with PhotoSpills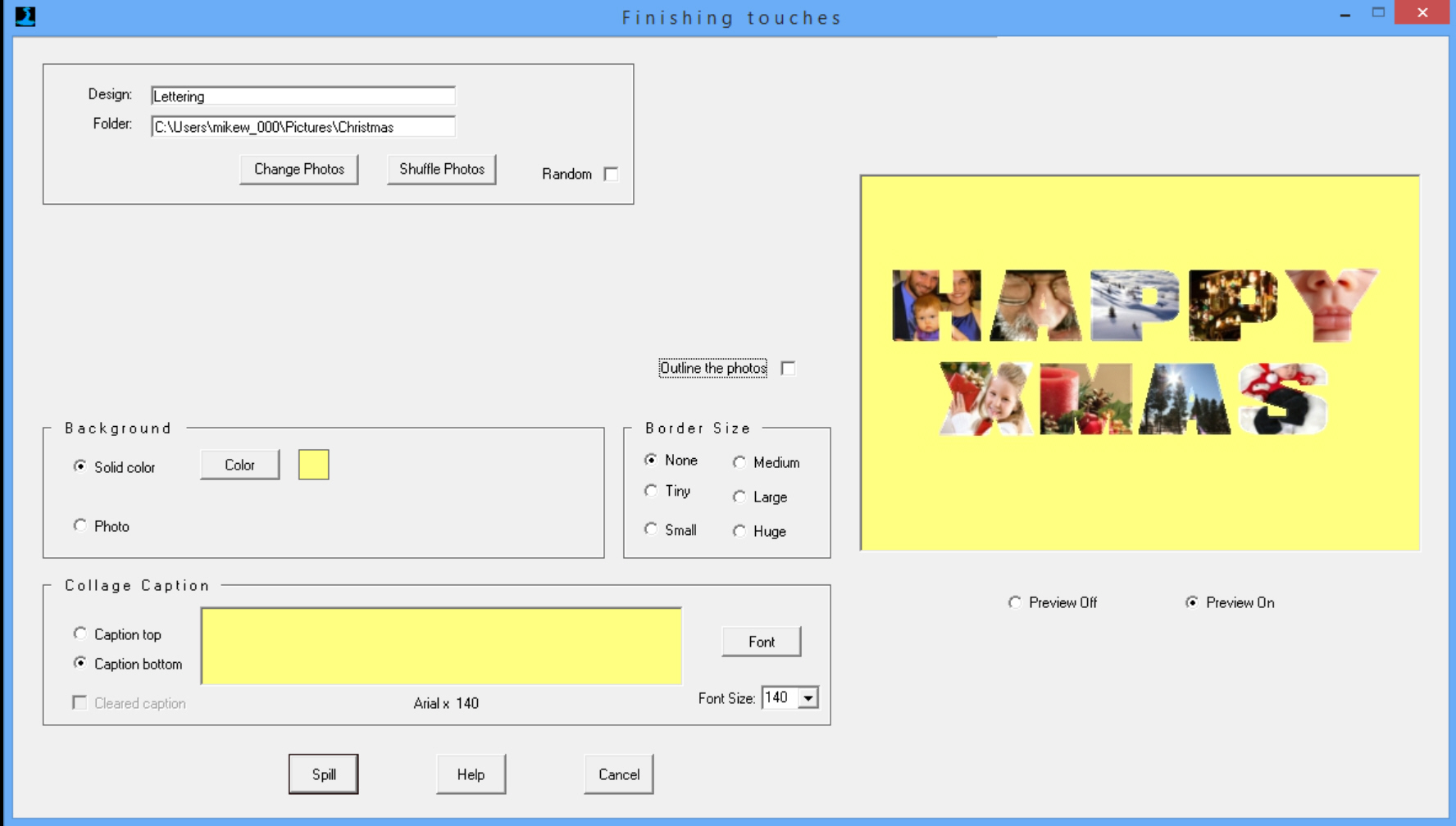 It's no secret that Christmas is best when it's spent with friends and family. That's not always possible, of course, but at least you can take photos of your favorite moments and share them with others.
You could post your pictures on Facebook, maybe Twitter, or perhaps send them via email. But if they're really special then you could use PhotoSpills to present them in a professional photo collage.
Just like many similar tools, PhotoSpills can organize your photos in simple grids, or scatter them across the screen. But you also get a number of "block" designs where individual photos are displayed in different sizes. You can go further still by framing your pictures in circles, stars, hearts, clouds, leaves, and similar clipart-type designs. While "Themes" can present your images as negatives, valentines cards, playing cards, baseball cards and more.
The program has strong support for what it calls "Lettering Spills", where you enter some text -- like "Happy Christmas" -- and each letter is filled with a separate image.
The "Puzzle Spill" is another highlight, presenting your collage as a jigsaw puzzle.
All of these are extremely configurable. Choose the "Puzzle Spill", say, and you're able to select Portrait or Landscape mode, the number of rows and columns, whether you'd like one or four puzzle pieces per photo, and exactly which source photos to include.
A Preview window shows the results, and if you're not happy then you can shuffle the photos with a click, and view a new arrangement.
There are options to set a custom background colour or image for your collage, as well as provide a caption.
And once you've finished, the results can be saved as JPGs in print or web-friendly resolutions.
It's not all good news. The PhotoSpills "puzzle pieces" look a little rough; we were expecting smooth curves, but instead they look like they've been cut out manually with a very large pair of scissors. If you're using a small number of pieces and exporting a high resolution image then that could be a problem.
There are occasional workflow issues, too. Some of the designs don't provide a preview for their initial setup dialog, which can leave you guessing, and if you make a mistake you're forced to click Cancel and start again.
Despite that, PhotoSpills' configurability and range of templates does help it stand out from the crowd, and if you're looking for a different way to present your Christmas photos then we'd give it a try.