Santa brought you a Chromecast? Here's what to do first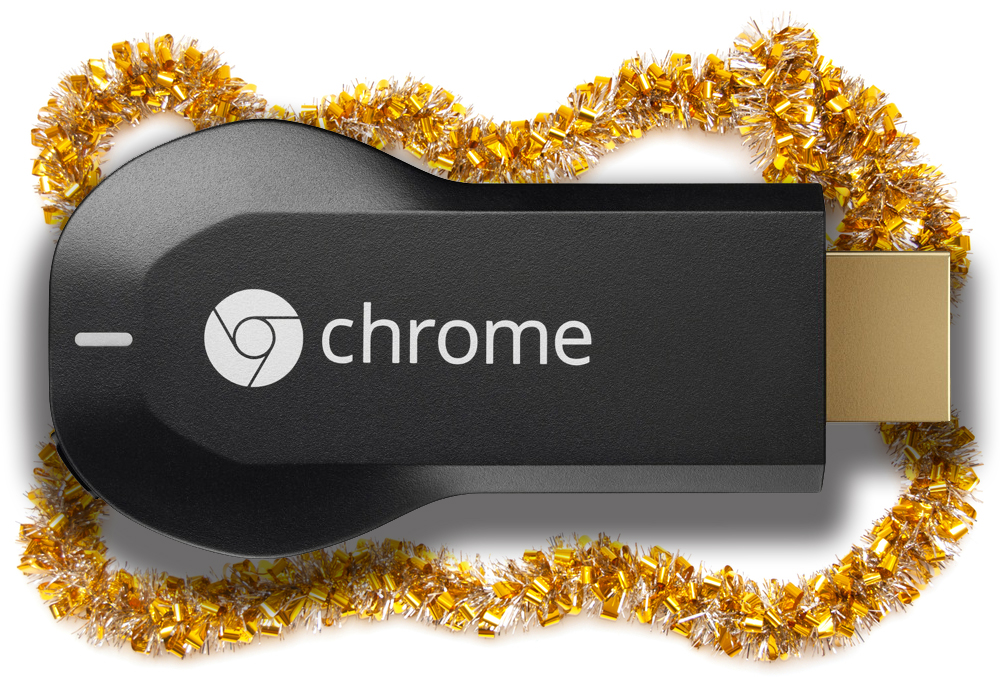 Google Chromecast is the perfect stocking filler -- it's small, affordable, and guaranteed to be a hit with anyone who receives it as a gift this holiday season. Google is continuing to bolt on features (most recently it added a guest mode), so you'll be able to do even more with it throughout the coming year.
The tiny powered dongle plugs into your TV set and lets you watch streaming video from the likes of YouTube, Hulu Plus, HBO Go, BBC iPlayer, Netflix, and Google Play. You can even 'cast' content from your Chrome browser on to the big screen, and play your own videos.
Get Set up
To use the Chromecast you'll need a TV with a spare HDMI port, a nearby power socket -- or a USB port on your TV -- a Wi-Fi connection, and a PC or Mac, or smartphone or tablet.
Plug the power cable into the Chromecast and optionally attach the included HDMI Extender. Plug the Chromecast into a spare HDMI port on your TV, and then switch to the relevant TV input.
Go to chromecast.com/setup on a phone, tablet or laptop, and follow the instructions for your device. There are Chromecast apps for Android and iOS.
Launch the Chromecast app and accept the terms. The name of the Chromecast should match that displayed on your TV screen. Tap Set-Up and the app will connect to your Chromecast and display a pairing code. Assuming they match, tap 'I see the code'.
Give your Chromecast a memorable name, and tap Set Name. Enter the password details for your Wi-Fi network. The dongle will connect to your network and automatically update itself.
Get casting
You can cast from Chrome and various apps, but the best way to test out the Chromecast is from YouTube. Start a video playing on your smartphone or tablet, then tap the Chromecast icon at the top of the page and select your Chromecast name. After a brief pause the video will start playing on your TV. You can queue up multiple videos and watch them in sequence.
Next, try casting a tab from Chrome. Install the Google Cast extension and browse the web as normal. To cast a page, click or tap the Chromecast button at the top of the browser. You can adjust the quality of the display by clicking or tapping the Chromecast button and then selecting Options. You can choose between Extreme (720p high bitrate), High (720p), and Standard (480p) definition.
As well as casting YouTube videos and web pages, Chromecast can mirror an Android device's screen on your TV, and with the right apps, cast audio, video and photos stored on your computer or mobile device. It can also be used to play simple games, such as Monopoly Dash, Big Web Quiz and Just Dance Now.
Apps
A lot of apps come with Chromecast support, and Google has a list of them here. Cast Store for Android is also worth an install. Reddit has a comprehensive (and regularly updated) list of Chromecast apps for iOS, Android and Chrome. Go here.
Photo Credit: andrej_sv/Shutterstock