The best Windows Store apps of 2014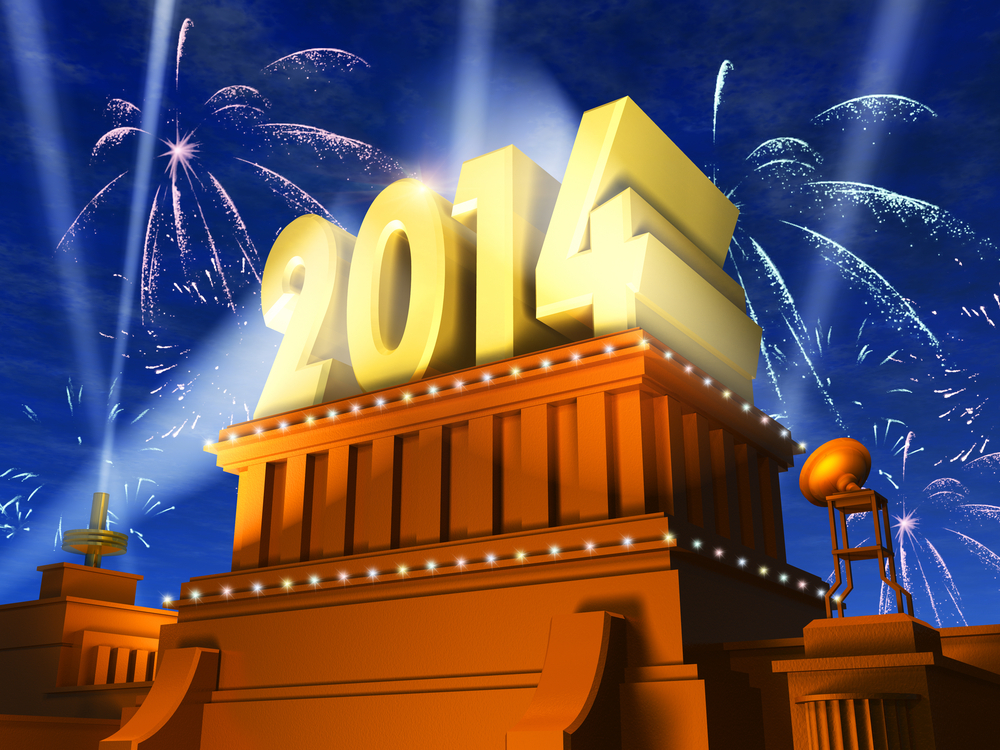 The best apps for Windows 8 series on Betanews is almost as old the Windows 8 operating system itself. If you follow the series closely you know that it has had its ups and downs depending on what apps are released in a given week.
Things improved after the release of Windows 8.1 as more quality apps and games were released for the operating system.
What we have not done so far is to list the best apps for the year, but this changes today with this article.
Since this is the first article of its kind, we are including apps released in 2012 and 2013 as well in the list.
Next year, we will focus the year's end article on 2015 apps releases exclusively.
The following rules apply:
Apps that Windows 8.x ships with are not included. This includes the majority of Microsoft apps.
If we had to decide between an app available for other systems and an app that is exclusive to Windows 8, we picked the latter.
A maximum of one app per service or type.
Tweetium ($2.99, free trial available)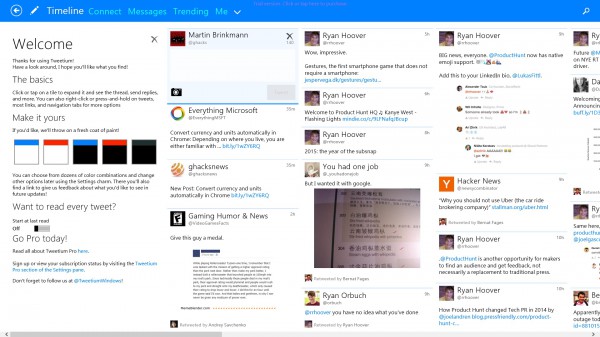 Tweetium is arguably the best Twitter client for Windows 8. The base app supports a single Twitter account with options to upgrade to a Pro version from within the app to increase that limit up to seven.
The layout adjusts perfectly to any screen size and orientation, and there is an option to launch multiple instances of the app in windows.
It supports real-time updates, direct embeds of several popular media types, photo uploads and fast username auto-completes when posting new messages.
All standard Twitter features, such as searching for contents, opening user profiles, following users or managing lists are supported by it as well.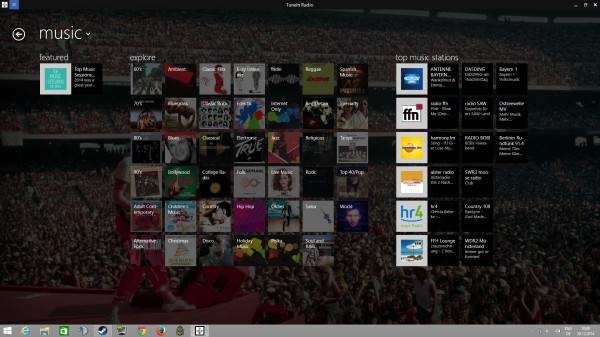 TuneIn Radio offers access to more than 60,000 local and Internet radio stations.
Music is obviously a big part of the app but it offers more than that including talk, news, podcasts and sports commentary.
You can pin your favorite stations to the Start screen for fast access, use other apps or programs while music is playing in the background, or use the search to find stations or artists of interest.
The app was released early in the life of Windows 8 and it shows visually as it uses the standard design that many early applications for the operating system shared.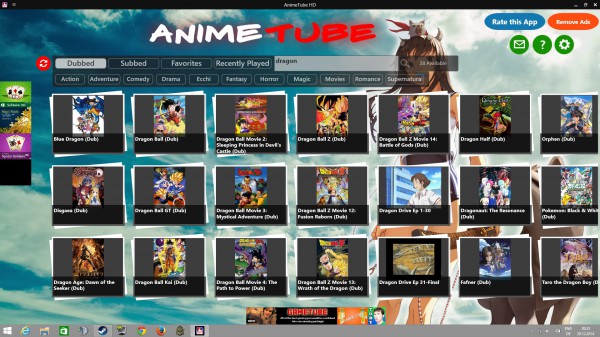 If you enjoy watching anime shows and movies you won't be disappointed by AnimeTube.
You can browse the list of supported shows alphabetically, filter by genre, dubbed or subbed, or use the search to find a particular show of interest.
While you may not find all popular anime series (Kino's Journey is missing for example) you'll find that a great number of highly rated shows are provided including Fullmetal Alchemist, Cowboy Bebop, Death Note, Neon Genesis Evangelion, Naruto or Dragon Ball. Episodes and movies play in a small area by default with options to increase the resolution to near full screen.
The quality ranges from SD to HD with many shows available in full HD resolution.
You can add shows to the favorites so that you can open them faster and without using search first.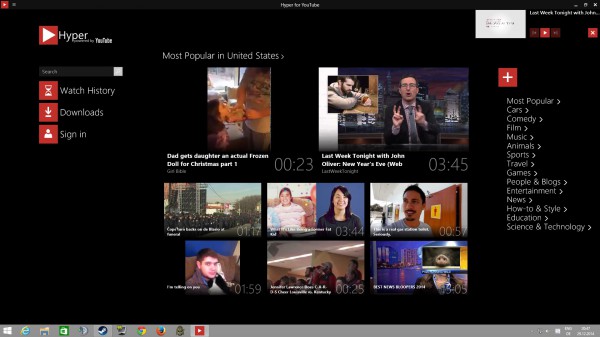 Hyper is the most popular YouTube application for Windows and it shows. You set the default video quality and location on start and link a Google account to the app as well if you like.
It supports the majority of features that you find on YouTube as well, and then some.
You can browse popular videos or categories, use the integrated search to browser videos, and watch videos in full screen and high resolution.
Other features include support for playlists, background playback, downloads and pin videos to the start screen for fast access.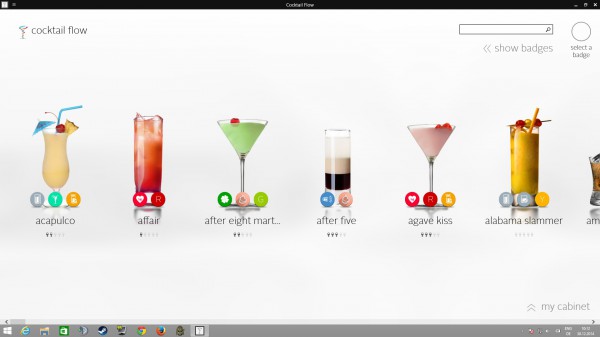 This beautifully designed application lists hundreds of cocktail recipes for you to browse through.
Cocktails can be filtered in numerous ways, from color and base drink to festivities and type. New Year's Eve is just around the corner for example and if you select it, you get a list of about 20 cocktails for the event.
The My Cabinet feature enables you to add ingredients to the application that you have at your disposal. Once added, all cocktails that you can create using the ingredients are listed by the application.
Recipes include the list of ingredients, preparation and a list of similar cocktails.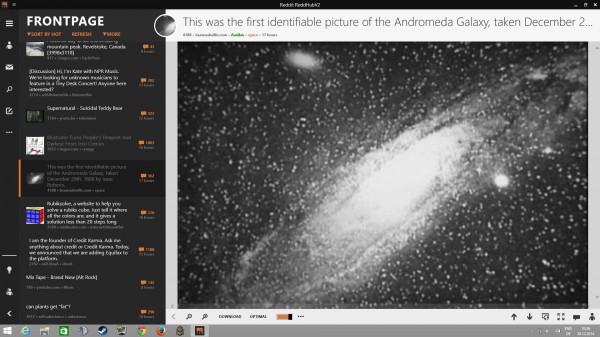 Windows 8 has its fair share of Reddit clients and most are quite good.
RedditHubV2 is fast and responsive, and it supports all the things that you could possibly want from a Reddit client.
You can sign in to your Reddit account to get a custom experience or skip the step and use the app without account. If you sign in you get the full Reddit experience including submissions, commenting, notifications and subscription management.
The app displays posts in a small sidebar on the left, and the actual linked content or discussion in a larger area on the right of it.
This makes it comfortable, as you don't have to open images or conversations in tabs or windows anymore. ReddHubV2 supports live tiles and Windows toast notifications.
Nextgen Reader ($2.99, free trial available)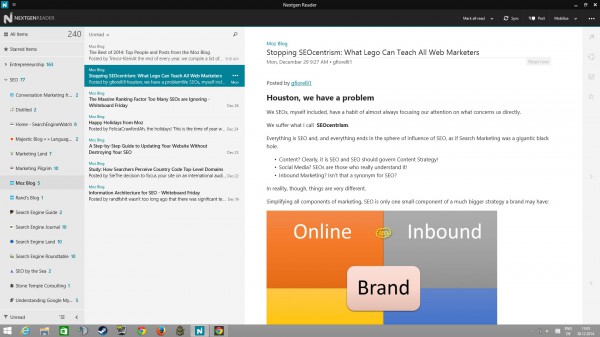 Nextgen Reader is a client for the RSS management service Feedly. It syncs with Feedly automatically to display all subscribed feeds and unread items in its interface.
It uses a 3-pane view listing feed titles, items of the selected feed or group, and contents of the selected item.
Support includes multiple styles, dark or light for example, and Readability and Instapaper for text styles.
One interesting feature is the ability to switch between summary and full articles. Some websites publish only excerpts to their RSS feed and this feature enables you to display it in full regardless of that preference.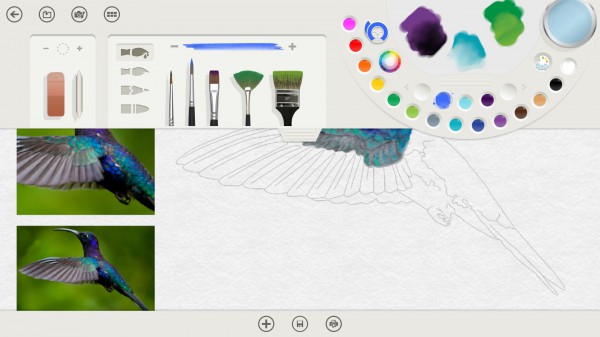 Fresh Paint is best used on a touch-enabled device but it works on any other device running Windows 8 as well, even though your experience may not be the same.
It is a painting and drawing app for Windows that kids will love if used on a tablet.
Complete one of the half-finished paintings and drawings the app ships with, create one from scratch, or upload a new photo using the camera or local storage.
The top displays a range of brushes, colors, pencils and other tools to use but only when you need it.
Once you are finished with a painting, you can save it to the local system or order a physical framed copy of the painting that gets shipped to you.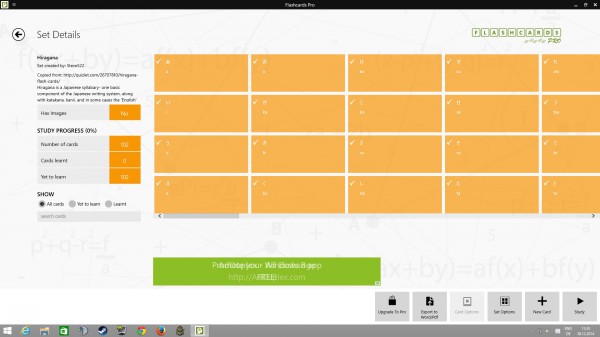 Flashcards Pro is a free app that you can use to create your own flashcards or download card sets from online sources to use those instead.
Online support is one of the features that makes it such a great application as you may find card sets you are looking for online so that you don't have to create them on your own.
The app supports touch-based controls and keyboard controls which are both intuitive and easy to use.
Cards can be added to sets. Each card contains front and back information which can be text or an image.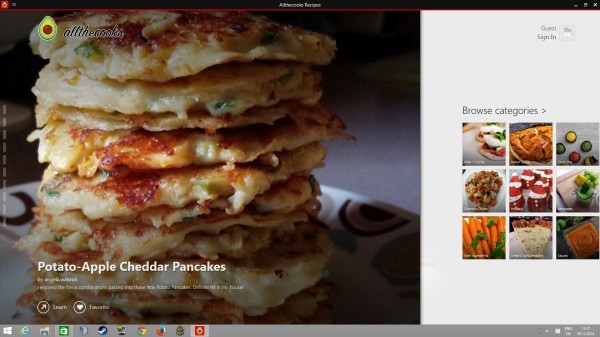 The app features more than 150k recipes from the Allthecooks community. The app displays editor choice recipes on start as well as options to browse recipe categories such as main dishes, desserts or soups.
Besides that, you will also find recent and trending recipes, recipes that were featured recently and a search that you can use to find recipes.
Search is excellent as it makes use of filters. If you search for pancakes for example, you can check dietary preferences, ingredients, and other filters such as easy, hot or vegetarian.
Ingredients are listed for each recipe as well as instructions. One interesting feature here is the option to modify servings which will adjust the ingredients accordingly automatically.
Now You: Your favorite app is not listed? Feel free to share it in the comments section below.
Image Credit:  Oleksiy Mark / Shutterstock