Acer Revo One RL85 -- An impossibly small PC with an Apple-esque design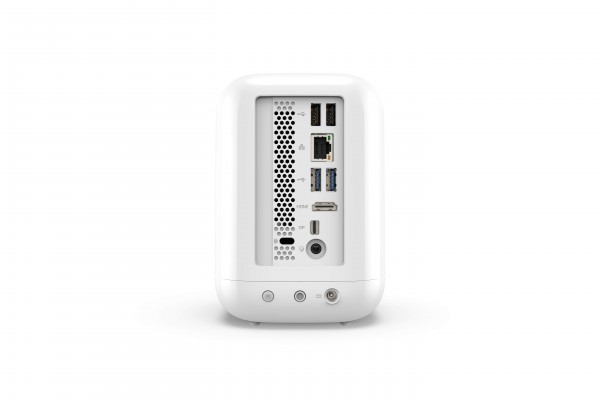 Late last year, my desktop PC died. It was tragic for me, as I loved it very much. I was pretty much its father, as I built it piece by piece. Somehow most of the components fried, including the motherboard, graphics card, etc., so I salvaged some working parts and trashed the rest. Luckily, my Surface Pro 3 saved the day. What was my mobile PC, became a great desktop when connected to the official docking station. It is a great solution.
With that said, I still like having a more traditional PC on hand for tinkering purposes, such as adding SATA hard drives and such. I've had my eye on the Intel NUC PCs for a while, but they are in desperate need for a refresh (I expect that to happen soon, though). Today however, Acer announces a computer that makes my heart aflutter -- the Revo One. Not only is it compact like a NUC, but the design is futuristic and cute as hell. The second I saw it, I knew I had to have one, and I bet you will feel the same. Sadly, you and I probably can't have it. Sigh...
"The Revo One was conceived to be the home entertainment hub powered by Intel Core i3 or i5 processors. It supports dual displays (HDMI and Mini DisplayPort) Ultra HD (3840x2160) 4K2K video output, which provides four times the resolution of Full HD (1080p), as well as 7.1 channels for audio output, ensuring a rich, lifelike cinematic experience. The Revo One is truly ideal for watching TV shows, movies or photo slideshows. It features three HDD storage slots, each one capable of containing up to 2TB. If that were still not enough space, the Revo One also boasts two easily expandable SATA ports for up to 6TB and supporting RAID 0/1/5i to store big data worry-free. Thanks to AC Protocol, the Wi-Fi connection provides fast wireless capability, which is up to five times faster than on traditional BGN-powered PC's", says Acer.
The manufacturer further explains, "on the top surface, Revo One features an SD card port marked for easy access as well as four LED smart indicators, which light up to indicate the status of the LAN and hard drive at a glance. On the back all other ports, including two USB 2.0, two USB 3.0, HDMI and mini DisplayPort, as well as a secure latch that can be unlocked simply using a pen, enabling users to open it. Underneath, users will find everything they need for storage hot swap to change or replace hard drives".
This is the part that gets me right in the feels -- it is a Europe exclusive and is not currently scheduled to come to North America. To quote Darth Vader, "Nooooooooooo!"
Seriously, I have no idea why this is not coming to the USA, as I think it could be a hit. For those of you in Europe however, you can buy it later this month starting at a very reasonable €269.
Are you as angry as I am that this will not be coming to America? Sound off in the comments.