Samsung unveils portable SSD -- blazing fast, smaller than a business card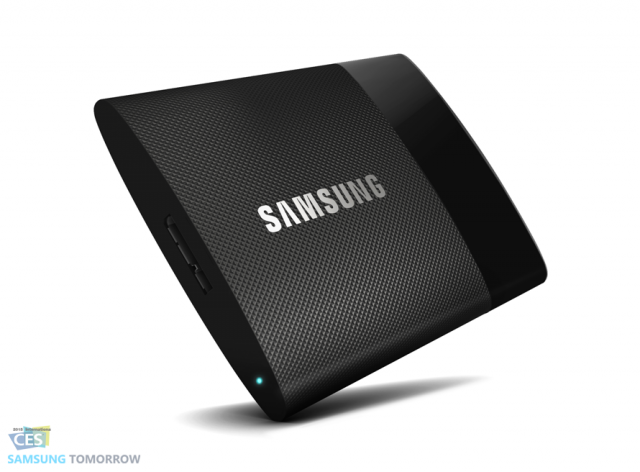 If you need a portable storage device, then are you are most likely looking to buy an external HDD. They are available in lots of sizes, and they are also pretty affordable. However, they are also slow. Too slow, I would say. So, if you need something that is fast -- that can transfer files quickly and open everything almost instantly -- then a portable HDD is not the answer.
However, a portable SSD would fit the bill just fine. On top of being faster, it will also be more energy-efficient and less sensitive to shocks. Targeting this crowd, Samsung today announced Portable SSD T1, which is about to hit store shelves in three storage trims. And it is so small and light, you can carry it in your pocket.
Portable SSD T1 measures only 71 x 53.2 x 9.2 mm (2.79 x 2.09 x 0.36 in), and weighs less 30 grams (1.05 ounces) at most. By comparison, an iPhone 6 comes in at 138.1 x 67 x 6.9 mm (5.44 x 2.64 x 0.27 in), and weighs 129 grams (4.55 ounces). Samsung boasts that it is actually smaller than the average business card, which is certainly no small feat.
Portable SSD T1 will be be offered with 250 GB, 500 GB and 1 TB of storage, courtesy of built-in SSDs which make use of the company's proprietary 3D Vertical NAND (also known as V-NAND) technology, that is also used in its top-of-the-line 850 Evo and 850 Pro series of internal SSDs.
Sequential transfer speeds are rated at 450 MB/s (for both reads and writes) when using an USB 3.0 connection, with random read and write speeds said to be 8,000 and 21,000 IOPS (Inputs/Outputs Per Second). Samsung claims that transferring a 3GB file will take just 8 seconds, while a 10 GB file will be be transferred in 27 seconds. Needless to say, it has the speed part covered.
Portable storage drives are prone to external shocks, but Samsung suggests that Portable SSD T1 will handle those just fine. The drive is touted to be shock-resistant up to 1500G/0.5ms, which makes it more than suitable for daily use. It also comes with a feature, called Dynamic Thermal Guard, meant to ensure data integrity in extreme temperatures.
Here is what else you should know about it. Portable SSD T1 comes formatted in exFAT, which means that it works fine with Macs and Windows PCs (there is no mention of Time Machine support, for backups). It supports 256-bit AES encryption. Finally, prices start at $179.99 for the 250 GB model. It will be available starting later this month, in 15 markets across Asia, Europe and US.