Textarea Cache: save web form text as you type (Firefox)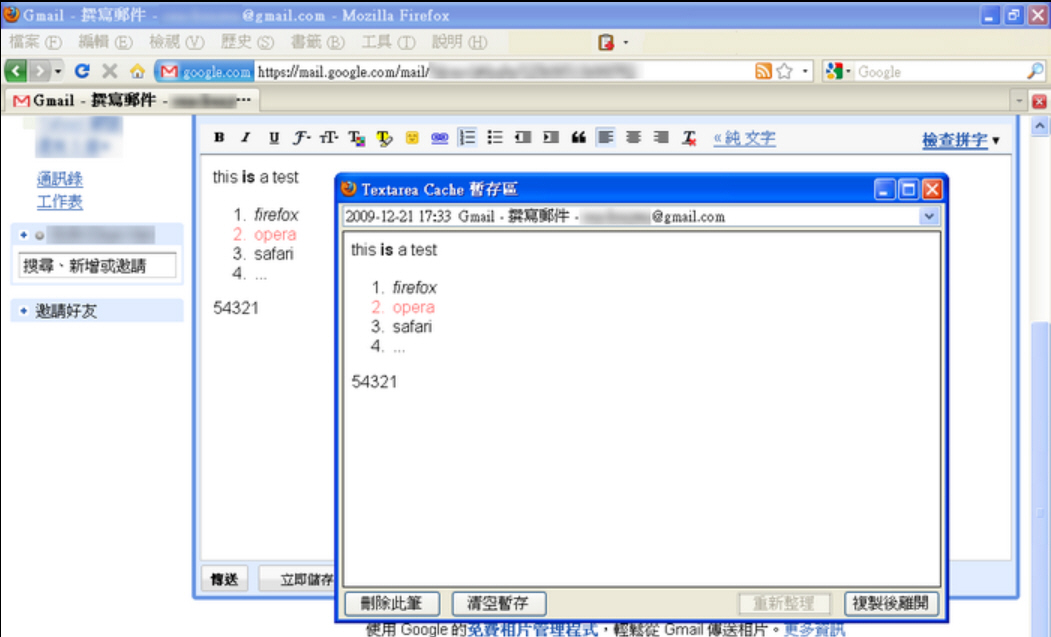 It's happened to us all. You've spent an age at a website, deep in thought, working on a lengthy forum post or similar wall of text, when the browser window closes unexpectedly -- and you've lost everything.
You could get angry, maybe throw things, before calming down and starting again. But it might be better to install Textarea Cache, a free Firefox addon which saves the contents of text fields locally, as you type, and makes them ready for recovery in seconds.
The extension doesn't add an icon to your toolbar by default, probably a good decision as it's not something you'll use often. But it starts working immediately, and when we typed in a text box, closed and restarted the browser, and clicked "Open cache window" in Textarea's Options dialog, our words were always displayed for copy and pasting elsewhere.
It's not just the last-entered text that gets saved, either: Textarea Cache stores as much as its (adjustably-sized) cache can hold. This could make it helpful in other situations, perhaps if you've just filled in a company's web feedback form and realized you should have kept a copy for yourself.
Saving this kind of data presents major privacy risks, but the developer has provided various settings to help.
By default Textarea Cache never saves text in Private Windows, for example, and it removes old data five minutes after Firefox has restarted (this can be increased, if you like).
You can also tell the add-on to never save text on specific sites by adding them to an Exception list.
There's still scope for personal information to "leak", and so Textarea Cache might not be a good choice for systems where there are several users. But if that's not a concern for you then the add-on should save you a little time and hassle, if only occasionally.