Intel's Compute Stick is a Windows 8.1 PC on an HDMI dongle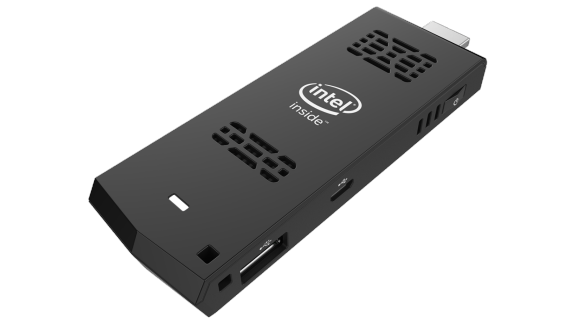 The Enterprise edition of Windows 8.1 has a feature called Windows To Go, which lets you build a portable version of the operating system that you can run directly from a USB flash drive. It works well enough but you need a super-fast (and therefore expensive) USB 3.0 stick to get decent performance.
Intel has come up with an alternative solution that can turn any HDMI display into a fully functioning computer running Windows 8.1 with Bing, or Ubuntu Linux.
The Compute Stick is a 4 inch HDMI dongle, with the operating system pre-installed. It features a quad-core Atom processor (Intel hasn't revealed the type, but it's thought to be a Bay Trail Z3735F), 2GB of RAM, built-in wireless connectivity (802.11b/g/n and Bluetooth) and 32GB on-board storage. There's also a micro SD card slot if you need more space, and a USB port to connect devices. It has a micro USB port too, but this is just for power.
Intel plans to retail the Windows version of the stick for $149. If you prefer Ubuntu, that version will cost you $89, but offers reduced RAM (1GB) and storage (8GB).
Intel says the Compute Stick is "everything you love about your desktop computer in a device that fits in the palm of your hand". That's pushing it a bit, but it certainly looks interesting.
The dongle isn't available yet -- Intel is aiming for a March release -- but you'll be able to get additional information from here in due course.
What do you think about the Compute Stick? Is it something you'd be likely to buy?