Mophie Juice Packs power your iPhone 6 or iPhone 6 Plus for longer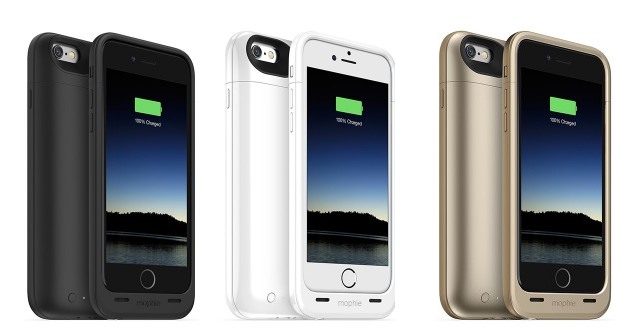 Power -- or running out of it -- is a perennial problem for mobile phone users. As handset screens grow and processors become more powerful, the demand placed on batteries is constantly increasing. It's quite common to hear people complaining that their phone won't last the day without needing a recharge.
Something of a cottage industry has sprung up in third party batteries and charging cases. One name that has been around for some time is Mophie, and at CES 2015 the company took the wraps off three new power cases; two for iPhone 6 and one for iPhone 6 Plus.
The Mophie Juice Pack is available for both iPhone 6, and the larger Plus handset. $99.95 buys you a protective case that not only shuns bumps and scrapes, but also more than doubles the battery life of your phone. A flick of a switch is all it takes to start charging your iPhone via an integrated battery; the iPhone 6 case features a 2750mAh battery while, interestingly, the iPhone 6 Plus version features a 2600mAh battery. The case is available in black, gold and white to match your Apple device.
If 100 percent extra battery life is not enough, how does 120 percent extra sound? If you have an iPhone 6 -- Plus owners miss out for the time being -- the Juice Pack Plus gives a further boost for $119.95, bumping the battery up to 3300mAh. While some people will claim that the latest breed of iPhone has sufficient longevity to obviate the need for additional power, heavy mobile users will always find a way to race through a charged battery. If you find yourself running out of juice towards the end of the day, these cases could help you out.
The Mophie Juice Pack and Juice Pack Plus are available for pre-order right now, and the cases are expected to ship in 3 to 4 weeks.