Time to get Intel outside as the company targets wearables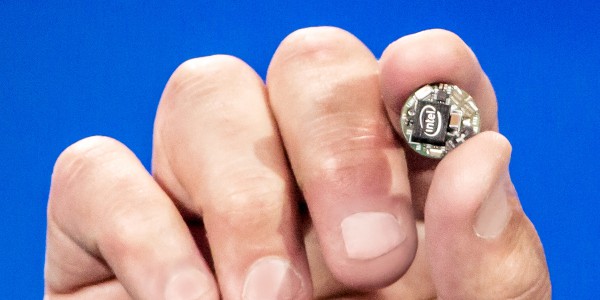 Chip maker Intel is using the 2015 CES to announce its plans for moving into the wearable technology sector.
These include the Curie, a button-sized hardware module, and a collaboration with sports sunglasses brand Oakley.
"The rise of new personal computing experiences, intelligent and connected devices, and the wearable revolution are redefining the relationship between consumers and technology," says Brian Krzanich, Intel CEO in his keynote address. "Our goal with Intel technology is to help solve real problems and enable experiences that are truly desired by people and businesses. In order to do this, we must also do more to lead the growth of diversity and inclusion within the technology industry. Women and under-represented minorities will continue to play a greater role as consumers, influencers, creators and leaders".
The Intel Curie is a tiny hardware device based on the company's first purpose-built system-on-chip (SoC) for wearable devices. The module is scheduled to ship in the second half of this year -- subject to getting FCC approval -- and includes the Intel Quark SE SoC, plus Bluetooth low-energy radio, sensors and battery charging.
Intel has been pursuing collaborations with a number of different fashion and lifestyle brands and Krzanich announced a new tie up with Oakley. The two companies are said to be working on an intelligent product, available later this year, designed to enhance athletic performance.
Also highlighted was Nixie, winner of Intel's 2014 Make It Wearable challenge. Nixie is a camera that's worn as a bracelet but can fly off to take photographs. You can see it in action on YouTube below.
Aside from wearables, Krzanich reaffirmed Intel's commitment to diversity with the announcement of a $300 million fund to help recruit and retain more women and under represented minorities. "We're calling on our industry to again make the seemingly impossible possible by making a commitment to real change and clarity in our goals," says Krzanich. "Without a workforce that more closely mirrors the population, we are missing opportunities, including not understanding and designing for our own customers".
You can find out more about the Make It Wearable project on Intel's site.
Image Credit: Intel