Track website availability and content with Site Monitoring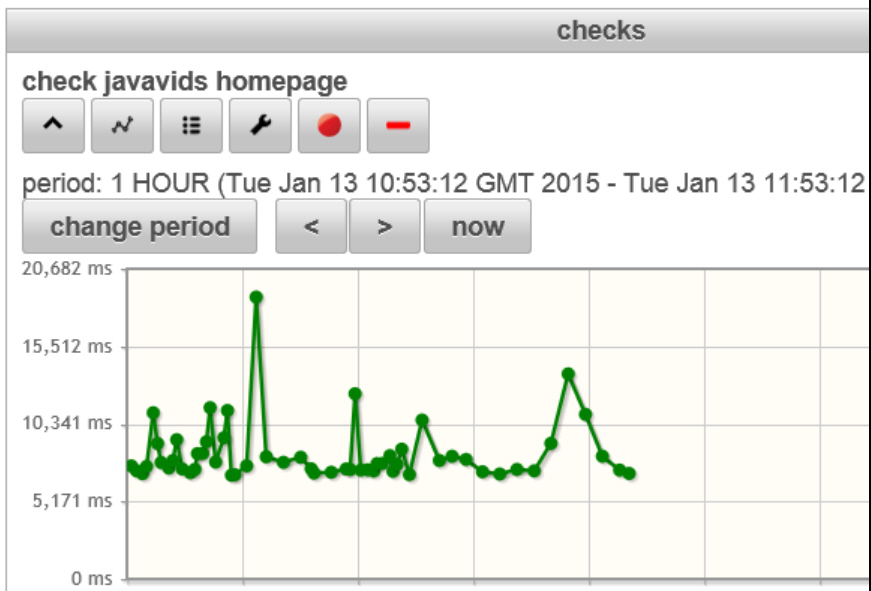 Site Monitoring is a Java-based tool which provides various ways to monitor websites and their content.
Launch the program and it opens a page in your default browser. The interface is a little basic, but conveniently it comes with a couple of example site checks to help you figure out how everything works.
The first, "javavids homepage", by default regularly checks the availability of http://www.javavids.com. Clicking the graph icon displays the various response times in graphical form. If there's not yet enough to be interesting then clicking the Start button a few times will run on-demand checks, and add a few more points to the graph.
There's nothing too unusual here, but clicking the Edit icon displays some interesting configuration options.
As well as the obvious basics (URL to check, frequency, schedule, timeout), you're able to check that the page contains (or doesn't contain) a defined text string. The program can look for broken links, check for a specific HTTP return code, and optionally send email alerts of any problems.
The second example, "sqlvids sitemap", takes this further by checking all the page links in a sitemap (http://www.sqlvids.com/sitemap.xml, in this case).
Again, you can tweak the example's settings to see how they work, or just add additional checks for sites or site maps of your own.
Site Monitoring's browser-based interface isn't quite as convenient to use as a native application, but at least it works wherever you've got Java, and there's more than enough configuration options to make it useful.