Microsoft announces Lumia 532, 435 -- its most-affordable Windows Phones yet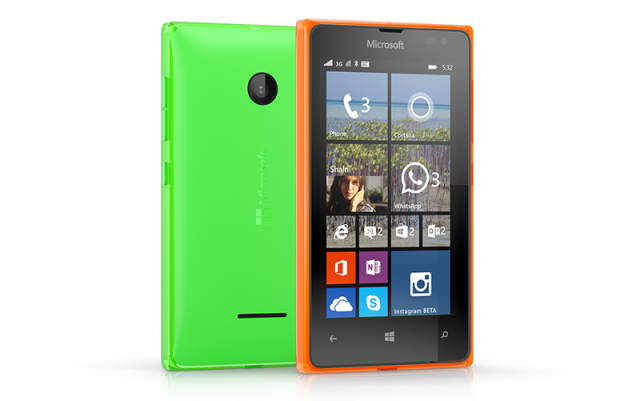 Windows Phone is most-preferred by low-end smartphone buyers. In fact, Nokia Lumia 520 alone accounts for more than 25 percent of Windows Phones currently in use. However, for consumers in developing and emerging markets even a smartphone as affordable as Lumia 520 may be priced out of their budget.
Less-expensive options are needed for the platform to increase its user base, so, today, Microsoft announces its most-affordable Windows Phones yet -- Lumia 532 and Lumia 435. The two devices are designed to offer basically the same Windows Phone experience as their more expensive siblings, but at prices starting at as low as €69, before any local taxes and subsidies are factored in.
As you might expect given its name, Lumia 435 is the least-expensive of the two, and the new smartphone costs as little as €69. Lumia 532 (pictured at the top) is one step above it in Microsoft's lineup, and this shows in its price, which is estimated to be €79, again before any local taxes and subsidies are factored in.
It is important to note that, at such low price-points, Lumia 435 and Lumia 532 are poised to be huge hits among pre-paid smartphone users. At the same time, their low off-contract price likely means that they will be offered for free, basically, alongside two-year mobile operator contracts. It should, therefore, make them highly-appealing options also for post-paid users simply looking to get a smartphone -- any smartphone -- for little to no money.
Of course, their presence and success in the post-paid market largely depends on the mobile operators in the markets where the two Windows Phones will be available. Microsoft says both will be available starting next month, in select markets in Africa, Asia-Pacific, Europe, India, and the Middle East. Now, let's talk specs.
Lumia 532 highlights: 4-inch display with a resolution of 480 by 800 (yes, it has capacitive keys); 1.2 GHz quad-core Qualcomm Snapdragon 200 processor; 1 GB of RAM; 5 MP main camera; 0.3 MP secondary camera; 1,560 mAh battery; 8 GB of internal storage; microSD card slot; Wi-Fi 802.11n; physical dimensions of 118.9 x 65.5 x 11.6 mm and weight of 136.3 grams. It runs Windows Phone 8.1 with Lumia Denim enhancements, and offers Glance Screen functionality.
On paper, Lumia 532 looks like the proper successor to Lumia 520. It fixes the latter's main shortcomings -- 512 MB of RAM, no front-facing camera, and no Glance Screen support -- while retaining some of its stronger features -- like 8 GB of internal storage with a microSD card slot, non-intimidating size, and capacitive keys. I wouldn't be surprised if a lot of Lumia 520 users will choose Lumia 532 come upgrade time (and assuming they do not want to or cannot afford to opt for a better model in the range).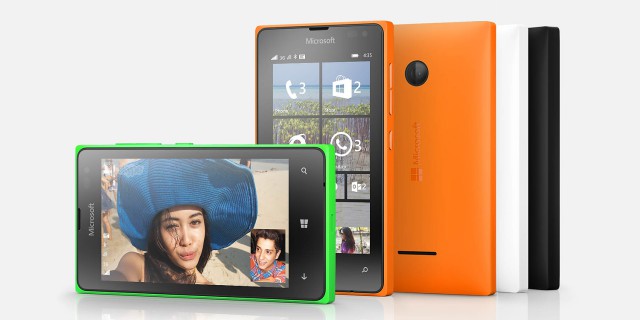 Being cheaper, Lumia 435 (pictured above) features lesser specs. Here are the differences: 1.2 GHz dual-core Snapdragon 200 processor; 2 MP main camera; physical dimensions of 118.1 x 64.7 x 11.7 mm and weight of 134.1 grams. It also does not offer Glance Screen functionality.
Choosing between the two, as you can see, is a no-brainer. Lumia 532 is the better phone of the two, for not that much money more over Lumia 435. I should also note that both devices will be available in single-SIM as well as dual-SIM versions, the latter of which will most likely be most popular.