Play Maths Scrabble with Scrabble3D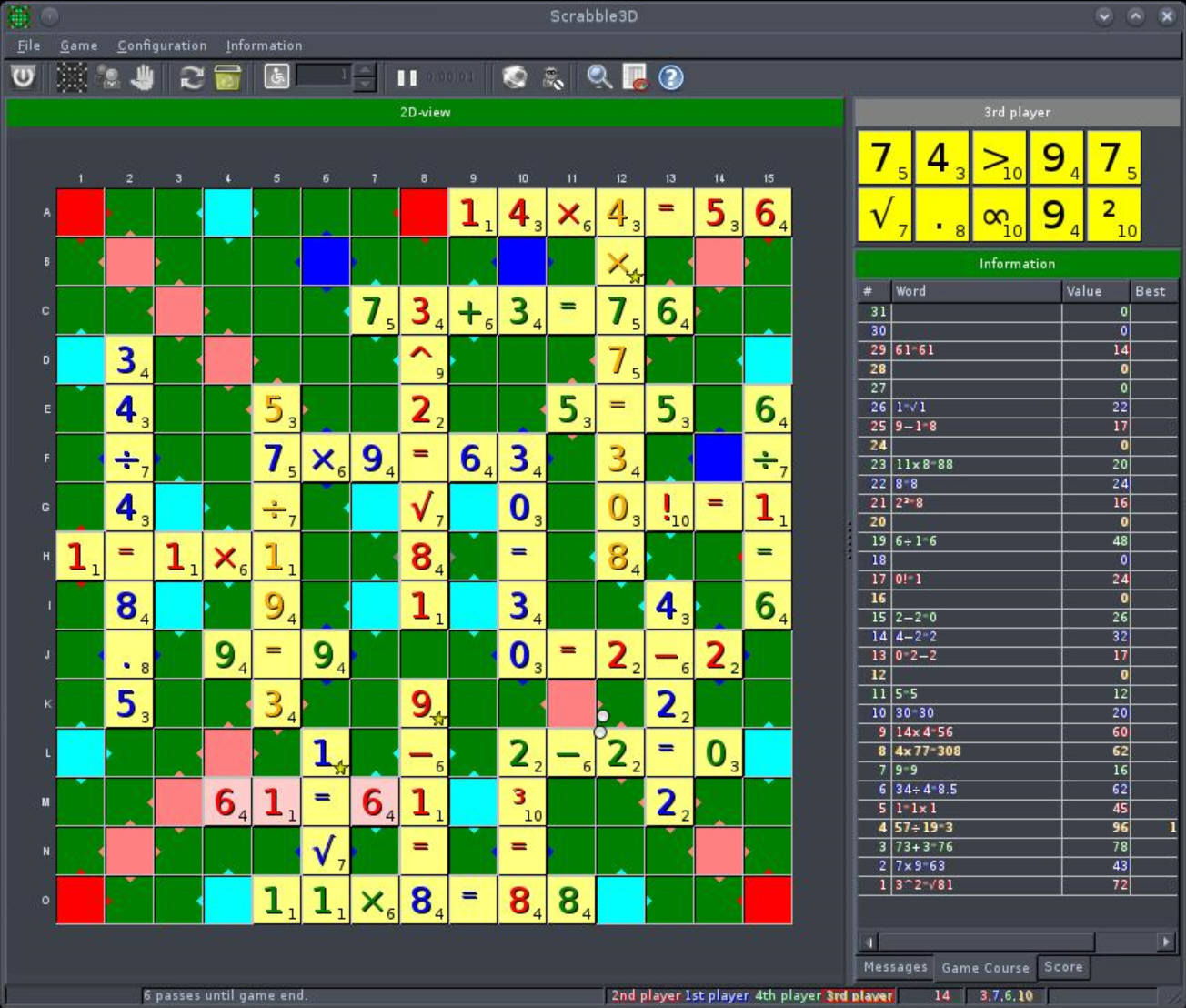 Scrabble is a classic word game, every bit as engrossing today as when it first appeared back in 1938.
That's our view, anyway. But if you're tired of the regular game, would like to mix it up a little, then you might be interested in the open source Scrabble3D.
The program opens with the familiar 15×15 board. You can play against the computer, with local opponents, across your network or by connecting to game server. And it's all very straightforward: when it's your turn you just select, drag and drop your tiles into position on the board.
There's support for many game variants. Opting for Superscrabble, say, gets you a larger board and quadruple premium squares, while CLABBERS allows you to play games with scrambled letters. (That is, you can use a nonsense word as long as it's an anagram of something legitimate.)
If that sounds too basic then you can try 3D scrabble, where you're able to create words by playing tiles into the depth of a cube, as well as horizontally.
There's even a numerical dictionary which enables you to play Math Scrabble. Your tiles have numbers and numerical operators, and you use these to play "5=5", "2+2=4", "26/4=6.5" or whatever else works for you.
If this still isn't enough then you can customize games further with your own choice of board size, timeout and word check rules, joker options, difficulty levels and more.
Scrabble3D's interface has a few small issues. Drag and drop places tiles according to the position of your mouse pointer, not the tile itself, which may not be what you expect. There should be a very obvious "Done" button by your tiles, to hit when you've finished a word, but instead you have to find it on the toolbar. Tooltips take longer to appear then they should, and the English language translation has at least one dialog button using German text (yes, that's picky -- we did say these issues were small).
Once you've got used to these minor quirks, though, you'll find Scrabble3D is a very professional Scrabble implementation with plenty of game variants and configuration options.