SAASPASS makes two-factor authentication available to the masses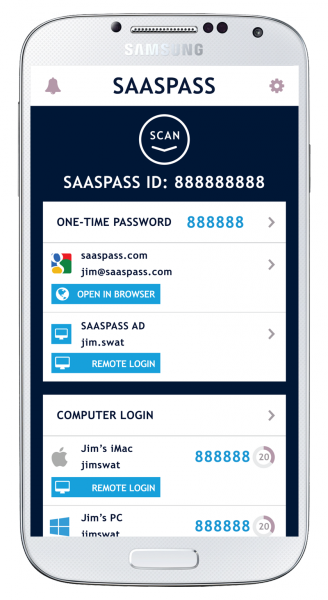 Passwords are increasingly being seen as inadequate for protecting information and businesses and end users alike are looking for more secure alternatives.
San Francisco-based SASSPASS is making it easier to implement two-factor authentication with the launch of its Computer Connector. In conjunction with a SAASPASS mobile app it enables quick and easy 2FA for Macs and PCs.
The need to possess a physical device helps prevent 99 percent of hacks, which are typically launched remotely. With SAASPASS new passcodes are generated every 30 seconds, thereby enabling a level of security that in the past would only have been available to the largest companies and governments using expensive and complex corporate 2FA systems.
The SAASPASS Computer Connector enables this level of security in an intuitive, seamless way by allowing users to use their mobile devices to login to their PCs and Macs. Users can simply use their mobile phone to unlock access to paired accounts with just their device proximity or a simple scan, rather than have to rely on individual passwords.
As well as logging into devices it can be used to allow access to websites or cloud services like Office 365 or Dropbox for Business. The API means it can be integrated into things like access control systems too allowing a phone to substitute as a pass card.
"We believe strong security is a right, and it shouldn't be a pain in the ass. If a solution isn't simple enough for my mom to use, then it's not a solution. The average person doesn't care for complexity, they want security to just work in the background simplifying their lives." says SAASPASS Chairman Oliver Ring. "SAASPASS does just that. Never before has strong security been so simple and easy to use. It's the iPhone of Strong Security".
You can get more information on the SAASPASS website and there's a video demonstrating how it works below.