Xiaomi reveals its iPhone 6 Plus competitors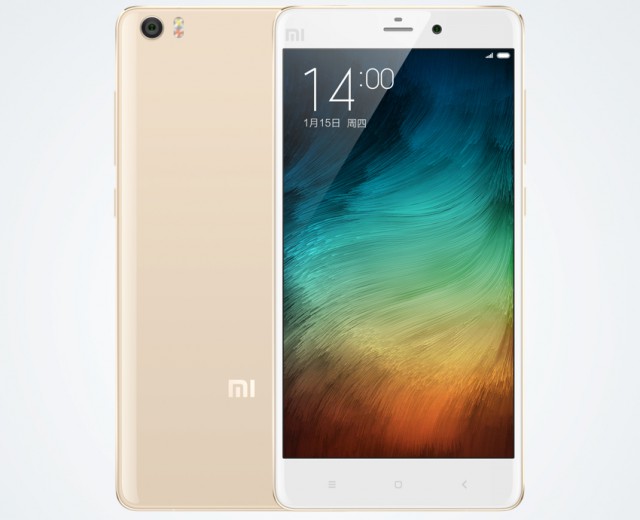 Chinese maker Xiaomi is going after iPhone 6 Plus with two new premium phablets unveiled today at a special event in Beijing. Called Mi Note and Mi Note Pro, the two Android handsets feature high-end hardware and, in typical Xiaomi fashion, lower price-tags than their Apple-made rival.
Xiaomi is calling both devices a flagship, although, judging by the specs alone, Mi Note Pro is clearly more deserving of the title, as it features the latest-available technologies. It is also better equipped to take on iPhone 6 Plus, which has proven to be quite successful for a phablet.
But, first, let's kick off with the less-expensive and less-impressive of the two. On paper, Mi Note is the phablet that is closer to iPhone 6 Plus with regards to hardware specifications. (That said, its specs are still more impressive, again on paper, than those of iPhone 6 Plus.)
It has a 5.7-inch display with a resolution of 1,080 by 1,920. It is protected by a sheet of 3D Corning Gorilla Glass 3 (the 3D bit means it's curved). Power comes from a 2.5 GHz quad-core Qualcomm Snapdragon 801 processor 3 GB of RAM, aided by a 3,000 mAh battery -- Quick Charge 2.0 is supported, as expected. But these are specs that would have been standard a year ago, and today they just don't cut it anymore for a device that is said to be a flagship.
On the back there is a 13 MP Sony camera with a wide f/2.0 aperture and optical image stabilization, which should make it a solid low-light shooter. On the front, the camera is a 4 MP unit with two-micron pixels -- it's similar to the camera HTC uses on the back of One (M8) and (M7) going by these two specs.
Xiaomi is, however, adding a few interesting bits to Mi Note. The device also gets improvements to the audio quality courtesy of a 24-bit/192 KHz Hi-Fi audio system, and dual-SIM support where both slots are 4G-enabled -- one is a nano-SIM and the other is a micro-SIM.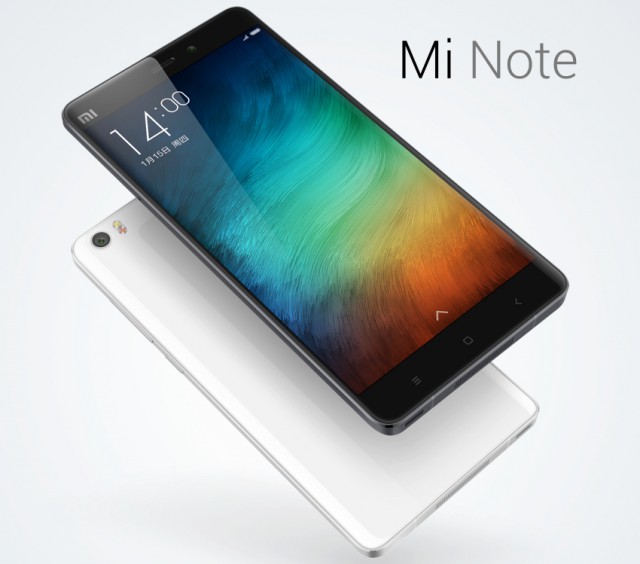 Mi Note will be offered in two versions, one with 16 GB of internal storage for CNY2,299 (around $371) and the other with 64 GB of internal storage for CNY2,799 (around $452). It comes in at 155.1 x 77.6 x 6.95 mm and 161 grams. Mi Note goes on sale next quarter in Singapore, and, presumably, other markets as well.
Mi Note Pro, as I implied, features all the latest goodies that a spec-fan can dream of. It has a 5.7-inch display with a resolution of 1,440 by 2,560. That gives it a pixel density of 515 pixels per inch. Inside, there is an octa-core 64-bit Qualcomm Snapdragon 810 processor aided by Adreno 430 graphics and a whopping 4 GB of RAM.
It also features 64 GB of internal storage as standard, which is a capacity that is optional on iPhone 6 Plus as the base model only offers 16 GB. Oh, and just like Samsung's Galaxy Note Pro LTE-A, it supports 4G LTE Category 9 cellular networks, which means download speeds of up to 450 Mbps and tri-band carrier aggregation support.
These are the main differences that Xiaomi has revealed so far between Mi Note and Mi Note Pro. The latter, of course, is also more expensive, costing CNY3,299 (about $533). There is no launch date announced for Mi Note Pro yet.
You may be thinking how the two stack up to iPhone 6 Plus. Well, as far as power goes it is a difficult comparison to make given the different architectures these devices have. But, here are the main specs of Apple's phablet: 5.5-inch display with a resolution of 1,080 by 1,920; 64-bit Apple A8 processor (dual-core 1.4 Ghz CPU, 1 GB of RAM); 8 MP main camera with f/2.2 aperture and optical image stabilization; 1.2 MP front camera; 16 GB, 64 GB or 128 GB of internal storage. It comes in at 158.1 x 77.8 x 7.1 mm and 172 grams.
But what about price? Well, here is where Xiaomi's phablets have a clear advantage. In 16 GB trim, iPhone 6 Plus costs CNY6,088 (about $983 -- I'm bringing up Chinese prices because Xiaomi operates in China and other Asian markets). For a 64 GB iPhone 6 Plus one has to shell out CNY6,8888 (about $1,113). Even Mi Note Pro is less than half the price of a similar iPhone 6 Plus, but Mi Note is nearly two and a half times cheaper. Clearly, price-conscious buyers will see this as a huge advantage, which is what Xiaomi is betting on.