Get OnePlus One without invite on January 20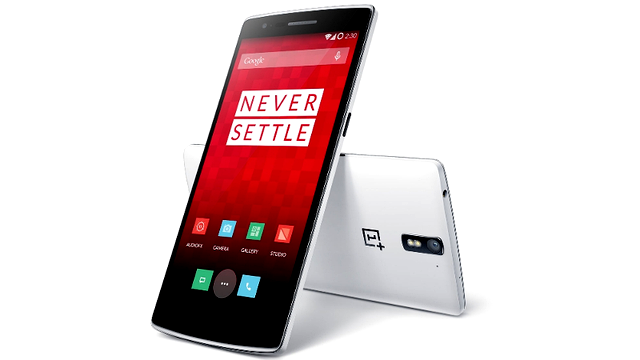 Selling your first smartphone through an invite-only system is a risky business model. Lots of things can go wrong, quickly, if it doesn't pique consumers' interest. For newcomer OnePlus it, however, worked out great so far. Its One "flagship-killer", which sold half a million units by early-November 2014, has received near-instant recognition from enthusiasts, despite being backed by a company that, at the time of its launch, was less than half a year old.
Since its launch, OnePlus also made One available to those without an invite, on a number of occasions. Things didn't go smoothly every time, as lots of consumers rushed to get their hands on the device, causing issues with the ordering system. If you were among the unlucky ones, or you are just now considering getting one, One (no pun intended) will once again be available sans invite tomorrow, January 20.
No-invite-needed One sales will kick off tomorrow at the same local time, in three different locations. The Hong Kong and Taiwan region will be able to purchase One between 19:00 and 21:00 HKT, Europe gets the green light between 19:00 and 21:00 GMT and North America gets its chance between 7 PM and 9 PM EST.
OnePlus has likely devised this plan so that interested users will not all be overloading its servers at the same time. Also, those are hours when lots of folks are home from work, and, most-importantly, awake, which makes this whole ordering process feel like less of the hassle that it is.
Judging by the promo for the no-invite One sales, OnePlus will also make accessories available to purchase on this occasion. Some of these include headphones, cases and USB cables. The version that OnePlus is showing in the promo is the Sandstone Black model, which comes with 64 GB of internal storage and a $349 price tag.
Specs include: 5.5-inch IPS display with a resolution of 1080 by 1920; 2.5 GHz quad-core Qualcomm Snapdragon 801; 3 GB of RAM; 3,100 mAh battery; 13 MP camera with f/2.0 aperture; 4K, 1080p, and 720p at 120 FPS video recording; 5 MP wide-angle front-facing camera; NFC; Wi-Fi 802.11 a/b/g/n/ac; Bluetooth 4.1; GPS; 4G LTE; CyanogenMod 11S (based on Android 4.4 KitKat -- an update to Android 5.0 Lollipop is in the cards for February), and physical dimensions of 152.9 x 75.9 x 8.9 mm and weight of 162 grams.