Spotify for Windows Phone gets an updated look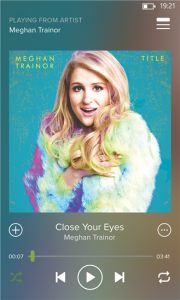 For a while Windows Phone users complained about the lack of apps, one of which was Spotify. The music service is now there and things are improving in general for the platform. Now Spotify has a major new update for Microsoft's mobile devices, bringing it more in line with versions on competing handsets.
The big feature is the addition of Your Music. This option allows customers to better organize and browse their tunes, as well as create playlists and view cover art. If you find something to your liking, you can simply hit "save" and move on -- it will be there for you in the future.
There's also a rather large user interface redesign. According to Spotify, the new UI brings a "new dark theme and refined interface lets the content come forward and 'pop', just like in a cinema when you dim the lights".
The final addition to this new release is an update to the "browse" feature. This will allow the user to get more targeted content -- relevant and localized, claims Spotify. According to the service "regardless of whether you're looking for something to fall asleep to, or the perfect playlist to get you geared up for your big night out, finding the right music for every moment is easier than ever".
You can head over to the Windows Phone Store and grab a copy. It's free, though many users may want the premium plan.