Screen Reader reads on-screen text as you point at it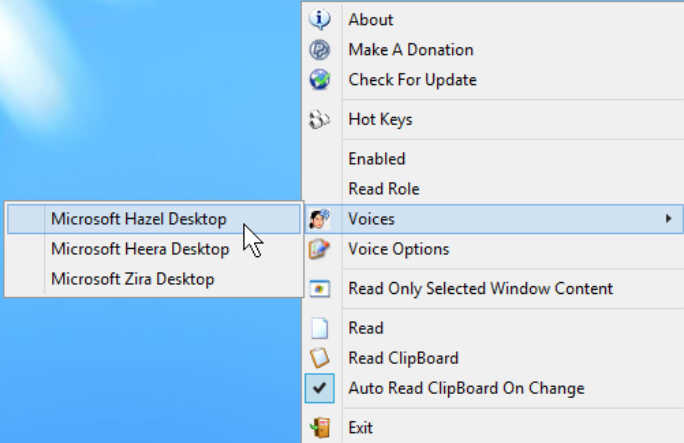 Screen Reader is a compact free tool which reads on-screen text out loud, as you point at it.
If you're thinking this sounds a lot like Windows' built-in Narrator, then you're right -- Screen Reader even uses the same core Microsoft speech engine to do its work. But the program also has a few advantages which might justify its download.
Screen Reader is portable, for example, so you can use it on someone else's PC without messing up their own system settings. Just unzip the tiny download (< 100KB) and run ScreenReader.exe as and when required.
The program isn't overly wordy. It won't start reading an entire window every time you click on it: instead, Screen Reader just reads text as you hover your mouse cursor over it, even if that window doesn't currently have the focus.
You don't get all the text context information, either. Click in the system tray, hover your mouse over an icon, and unlike Narrator you won't hear "desktop… notification area… tooltip": Screen Reader just reads whatever the tooltip text says.
There's support for reading the clipboard on demand, or automatically whenever the clipboard is updated.
Configurable hotkeys allow you to read the keyboard, start/ stop reading or lock/ unlock a particular window for reading only.
As the program is based on Microsoft's SAPI, it's able to read using any of the standard voices, or whatever others you might have installed.
Screen Reader still isn't as configurable as Windows Narrator, but if it may be preferable if you need only occasional words reading, or would like a portable tool you can easily run on other people's PCs. Worth a try.