Mega finally makes its official debut on Windows Phone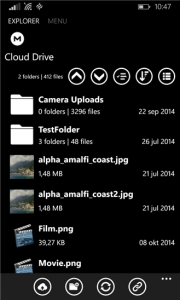 Windows Phone is the last major mobile platform to receive an official Mega app, following Android, iOS and even BlackBerry. It took quite a long time for the offering to make its public debut in Store, as the cloud storage service, which launched two years ago, first mentioned details surrounding its development in mid-2013.
Expectations are high, also taking into account the fact that Mega currently sits in Windows Phone Store as version 2.0. What does it have to offer? Well, let's take a look at the features it has, and should have.
First and foremost, the app's name appears to be given by people who like to write "first" in comments. Right now, Mega is not called "Mega", but "* MEGA *" just so it appears at the top of your Windows Phone's app list. That doesn't scream official app to me, but third-party knock-off.
Looking through the screenshots posted by Mega in the Store listing of the app, one would expect it to offer support for automatic camera uploads, just like it does on other platforms, as hinted by the "Camera Uploads" folder shown in one of the first screenshots prospective users will see.
But, the app does not appear to have such a feature yet, so if you want to back up your smartphone photos and videos to Mega you are forced to do so manually. Is that a big deal? It depends, but, personally, I think this feature is a must-have for a cloud storage app in 2015.
Moving on to other features, Mega does let you download and upload content. You can select files to download from the main "Cloud Drive" menu, and select which ones you wish to upload after tapping on the corresponding button in the bottom menu bar.
However, I expected to be able to upload all sorts of file types, but, unfortunately, Mega seems to be limited to photos at the moment. Also, for some strange reason, you can take photos (and selfies) straight from the app. I downloaded a PDF to test whether it was my Windows Phone which limited the available options, but Mega failed to recognize that other file types are stored on my device. Not a good sign.
But there are good things to say about Mega. It has a download and upload manager, letting users start, pause, resume and cancel transfers. It also lets you clear the cache, which is a nice feature to have at times, and export and copy the master key.
Mega also gives users the option of paying for premium subscriptions, but it does not appear to do so through Store. After tapping on any of the paid plans, you're redirected to PayPal. I don't believe Mega is paying any transaction fee to Microsoft for these upgrades.
Despite announcing its public availability in Windows Phone Store yesterday (however, at the time the app's listing was still showing an older version), Mega has yet to update its site to reflect it. Is it because it lacks polish? Anyway, at the time of writing this article, only the Android, BlackBerry and iOS offerings are listed.
Mega is available to download from Windows Phone Store.