Windows Phone users rejoice! Dropbox is here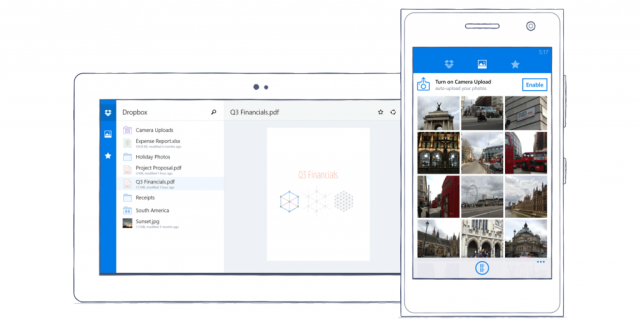 It is fair to say that Windows Phone still needs quite a few major titles in Store before the so-called app-gap can be considered a thing of the past. Take cloud storage services for example. You can embrace OneDrive if you want to stick with Microsoft services, or, as an alternative, use Box. But neither Dropbox nor Google Drive are an option. Both are hugely popular services, and their availability can be a deal-breaker for prospective Windows Phone users.
The good news is that at least Dropbox's availability on Windows Phone is no longer an issue, as the cloud storage service just launched its app in Store. It's undeniably a major win for the tiled smartphone operating system, which has consistently been criticized for lacking an official Dropbox client.
I do not have high hopes for the app at this stage, as this is its first public release (version 1.0.0.0 nonetheless). Some polish is clearly needed here and there.
Just like Mega, as far as I can tell, Dropbox can only upload photos from Windows Phone. You can, however, download and open any content you have stored on Dropbox, as long as there is an app which supports it (like a PDF reader for PDF files). You can also save that content locally, as long as the app which supports it offers you that option.
A user is also reporting on Dropbox's blog that the app, despite being listed as available in Spanish, works in English on his Windows Phone. Another complains that the app is not visible in Store, with a fellow user adding that it is not listed in the Austrian version of Store. Offline support is also reported as unavailable.
You can, however, perform file management operations. You can create new folders, delete, favorite, move, rename, search and share content stored on Dropbox.
To share, you can either copy a link to the clipboard or send it using Windows Phone apps that you can share content to (in other words, apps which appear in the share menu).
The highlight of Dropbox for Windows Phone, at least for the moment, is that it supports automatic camera uploads, meaning that it will automatically upload your photos to the cloud if you so choose. It will not do the same, however, for videos, and, for this feature to work, you have to have your Windows Phone plugged in, on a Wi-Fi network with a battery that is nearly fully charged.
You can also choose to enable automatic camera uploads when Dropbox is open, at which point you can also choose to use cellular data. Dropbox gives you some degree of flexibility here.
I just wish it would integrate with the auto upload feature that is built-into Windows Phone 8.1, so that automatic camera uploads can work in the background, independent of the aforementioned requirements.
To mention all the features, it also lets you set a PIN to protect your cloud-stored content from prying eyes. It's a neat little feature, which more apps should have in this day and age. You can also pin folders to the home screen for easy access.
Dropbox is actually a universal app, meaning that if you have already gotten it in Windows Store it will appear as purchased in Windows Phone Store as well. Dropbox also updated its Windows 8.x app, to reflect the changes made for Windows Phone, but, depending on where you live, it may or may not be available. My colleague Brian Fagioli says the app is still available for him, while Wayne Williams says the app is no longer available in his case. Strange things are happening. Not a smooth launch.
Dropbox is available to download from Windows Phone Store.