Check and manage Win7+ and Mac security with OPSWAT GEARS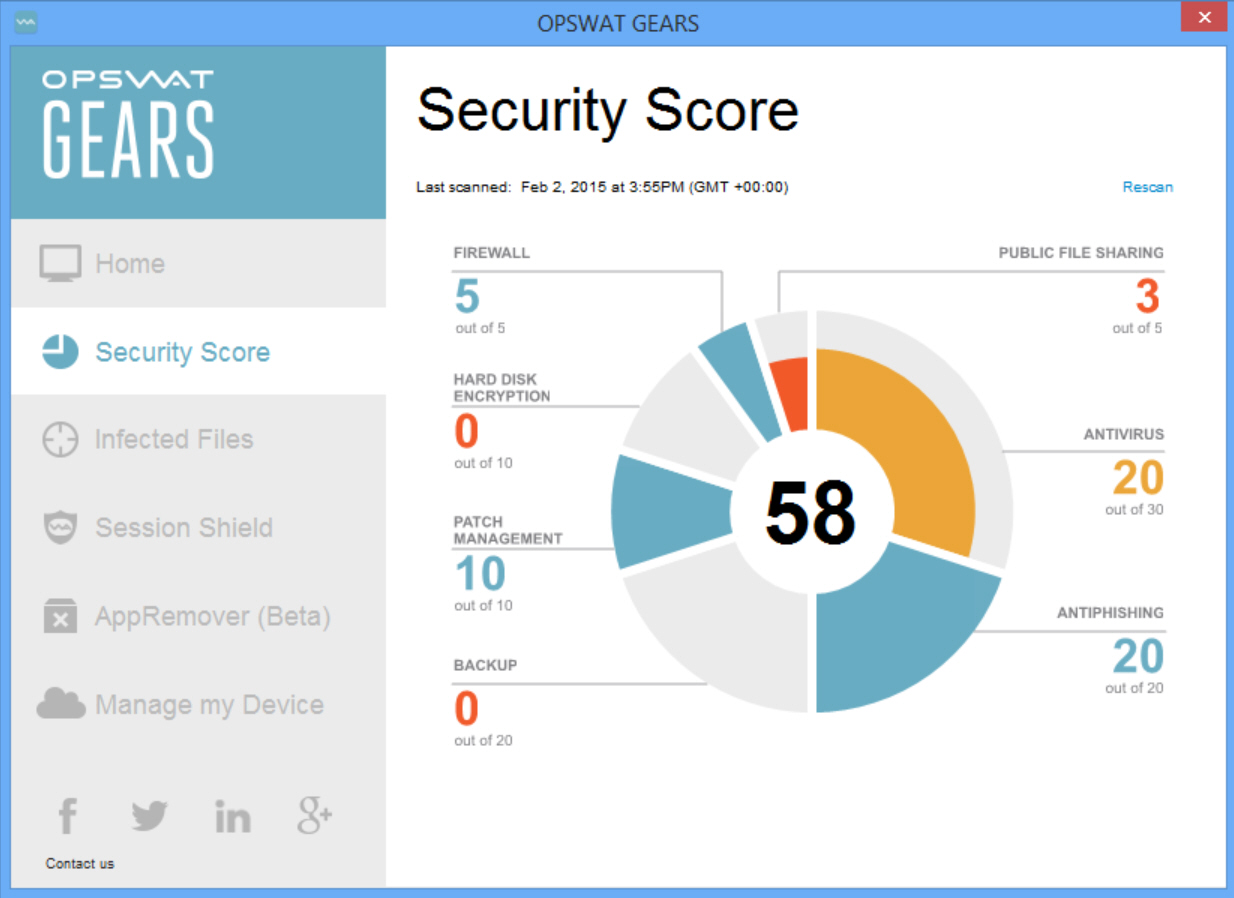 How secure is your computer? Finding out can take a little work. You might have to check your antivirus, firewall, backup program, maybe the Windows Action Center and various other system settings.
OPSWAT GEARS is a free utility which tries to do everything you need from a single interface. It works on individual PCs (Windows 7+) or Macs, and can also be used to check and manage security on up to 25 network computers (switching to the paid version removes that restriction).
You'll need to enter your email address to download the program, but after that it's all very straightforward. Installation is quick and easy, and GEARS begins scanning your system as soon as it's launched.
The opening Home page summarizes GEARS findings as they appear, and soon it was telling us our "protection score" was an alarming 58/ 100.
Clicking the "Security Score" tab showed this figure was built from individual scores for Firewall, Antivirus, Hard Disk Encryption, Backup and more. Selecting any of these gives a further breakdown, for example reporting we'd scored only 20/30 for Antivirus because we hadn't run a full system scan recently.
GEARS also scans for "potentially unwanted applications", anything the program thinks might compromise your security. It highlighted two file sharing programs on our test system (Vuze and uTorrent) and offered to uninstall them for us (you can ignore that, fortunately).
OPSWAT GEARS also scans running processes and other key files with OPSWAT Metascan, a VirusTotal-like service which checks the files with 40+ antivirus engines.
This could be a useful extra, but it takes a while, some 20 minutes on our test PC. All we got at the end were two false positives. And when we clicked the "See the results on Metascan Online", a browser window opened, saying "Invalid search term. Please check to make sure you entered the correct information and try again".
Elsewhere, a "Manage my device" option enables you to manage up to 25 computers from the cloud. If you've several family or work PCs, say, you could monitor their security score for anything which might indicate problems (someone turns off or uninstalls a security tool).
Perhaps our favorite GEARS feature is Session Shield, a secure isolated desktop. This looks a little like your own desktop, with a simple Start Menu which is able to launch many of your installed applications, but it's effectively running in a virtual machine to protect your privacy.
As a result, you're able to run programs, access and edit existing files, but when you exit the session any changes will be lost.
In addition, Session Shield uses a proxy service to give you another IP address, and disables USB ports, network shares and printers to further reduce the chance of data leaks.
OPSWAT GEARS is an odd mix of features. Its Security Score sounds good in theory, but isn't as helpful as it could be. You're able to view individual issues, but the program provides absolutely no assistance in fixing them, not even a button to open the Windows Update applet or launch your Backup tool.
The antivirus scan isn't ideal, either. It may catch threats that your regular security package has missed, but it takes a while to run, you can't choose what to scan, and -- on our brief test, at least -- we weren't able to see which antivirus engines raised an alert.
Despite that, the remote management option makes OPSWAT GEARS much more interesting, and Session Shield, its secure desktop, probably justifies the download all on its own. Give it a try.