Toshiba releases super-secure Encrypted USB Flash Drive with hardware-based encryption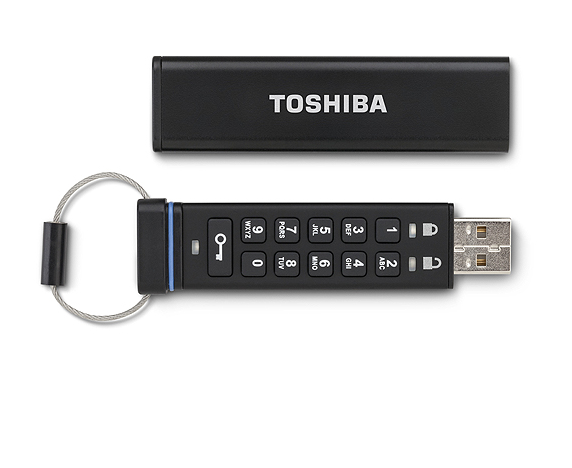 In a cloud-focused world, more and more people are shunning physical storage. It's hard to blame them, as cloud services are very convenient. Best of all, services like Dropbox and OneDrive store your files off-site, keeping them safe from floods, fires and other disasters.
Unfortunately, not everyone can utilize cloud storage. Businesses in particular may be wary of using the cloud to store or transport sensitive information and trade secrets. Yes, a flash drive may be an option, but what if it gets lost? They are small, and can easily fall out of a bag or pocket. Today, Toshiba releases its solution; the unimaginatively named Encrypted USB Flash Drive. While the name may not be impressive, the AES 256-bit encryption surely is.
"Available in 4GB ($95), 8GB ($112), 16GB ($140) and 32GB ($200) capacities, the Toshiba Encrypted USB Flash Drive uses a built-in mini-keyboard to authenticate access, incorporating a rechargeable battery so the user can enter a secure code before plugging into a USB port. Users simply enter their secure PIN and plug the drive into any USB 2.0 port on a compatible device. Once access is granted, the drive 'unlocks' the media, permitting clearance to all of the content stored on the drive. When the drive is removed from a USB port, the drive automatically re-locks and encrypts the stored media", says Toshiba.
The company further explains, "should the Toshiba Encrypted USB Flash Drive become lost or stolen, it is equipped with a Brute Force Hack Defense Mechanism that will render all stored information irrecoverable after 10 consecutive unsuccessful attempts to enter the secure PIN. The Toshiba Encrypted USB Flash Drive also carries a FIPS (Federal Information Processing Standards) Publication 140-2 Level 3 certification, issued by the National Institute of Standards and Technology (NIST), a certification often required by government agencies and other data security sensitive industries, such as healthcare and finance".
While everyone deserves secure files, the pricing makes it overkill for the average home user. This is more aimed at the enterprise, where lax file security can have a tremendously negative impact on the bottom line. In other words, your Nana's recipes, while important, probably do not need to be stored on a drive with hardware encryption.
The physical design is quite smart, as the aluminum sheath covers the keys. Since the data is destroyed after 10 unsuccessful unlocks, you do not want to accidentally press anything -- try telling your boss that you destroyed your work!
Since it is hardware encryption and not software, it should work on almost any operating system. Toshiba lists compatibility with the following:
Windows 8.1, Windows 8 and Windows

 7

Mac OS X 10.6, 10.7, 10.8 and 10.9
Linux
Certain embedded systems
If you are interested, you can buy the drives here, where prices are already marked down.