J7Z is a simpler, faster 7-Zip gui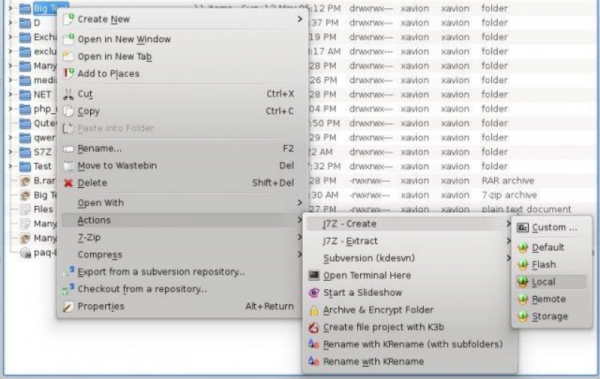 It may be more than 15 years old, but 7-Zip is an open source classic, still used as the archiving engine for a host of applications.
7-Zip's interface isn't a strong point, though, and if you'd like something simpler then you might prefer the Java-based J7Z.
The program is an ultra-lightweight 240KB download. It requires installation, but caused no issues for us, and won't interfere with an existing 7-Zip installation.
Select and right-click one or more files, choose "J7Z", and the usual lengthy 7-Zip list of options is replaced by just two: "Create" and "Extract".
Choosing "Extract" displays a number of extraction profiles, and all you have to do is select the one you need. "Beneath" extracts your archives to a folder beneath the current one; "Desktop" sends them to the desktop, "Documents" the Documents folder, "Temporary"… You get the idea.
J7Z's "Create" menu takes a similar approach, with a selection of archiving destinations to choose from: "Default" (the current folder), "Local", "Remote" and so on.
These profiles probably won't be right for you (the Create options mostly have hard-coded drive names), but there are a couple of ways around that.
Both the Create and Extract menus have a Custom option which launches the J7Z interface. This doesn't have nearly as many options as 7-Zip, but you can still set your compression algorithm (7-Zip, XZ, BZip2, GZip, Tar, Rar, add password protection, set source or destination folders, use custom, 7-Zip command line switches, and more. Select what you need, click Create or Extract and watch as J7 processes your files.