Inateck Surface Pro 3 felt sleeve tablet case [Review]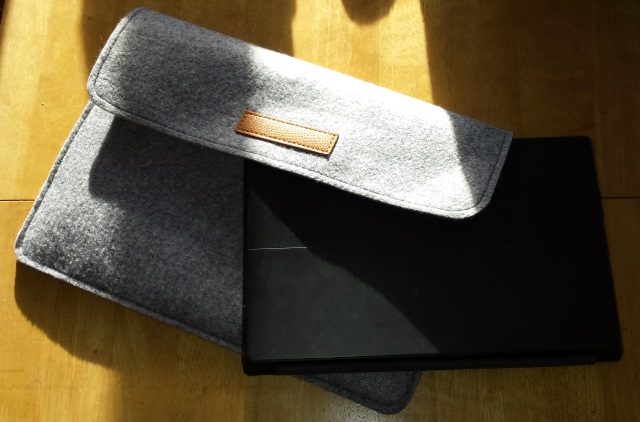 If you've dropped a few hundred dollars on a Surface Pro -- or even if you're one of the crazy few to have put your faith in Windows RT -- you want to protect your investment. One of the delights of the Surface Pro is that it is pleasingly svelte, even with the keyboard cover connected. So while you'll undoubtedly want to keep your Surface safe and secure, you probably don't want to wrap it in armor casing that triples its size and weight.
Filling the gap in the market between full-blown laptop case and simple slip cases comes the Inateck Surface Pro 3 felt sleeve. Described variously as a Surface Case Cover, Laptop Bag, Felt Sleeve, Surface Pro 3 Sleeve Case Protection, and a Surface Pro 3 Sleeve, the felt case provides a surprisingly protective home for your tablet, and packs a few pleasing extras.
The case is made of the same soft, thick felt throughout, meaning the screen of your Surface will be secured against scratches whether you have a keyboard cover connected or not. This is not a case that's going to withstand drops from a great height onto concrete, but there's ample cushioning to protect against bumps, scrapes and knocks. This is referred to as a Surface Pro 3 case, but it suits the smaller Surface Pro and Surface Pro 2 just as well -- there's just a little more breathing room with the smaller versions.
In front of the main tablet compartment is another smaller compartment, accessible through a narrower slit. This is ideal for small items such a notebooks, pens, and other relatively flat bits and pieces that you might want to take on the road with you. A flap Velcros in place to keep the contents of these two compartments secure.
Flip to the rear and you'll find two more little compartments. These are just the right size for slipping in a phone or MP3 player, but it's important to remember that there's nothing to keep the contents in place if you turn the case upside down.
The case is not without its problems, however. Like all cases of its ilk it suffers with a lack of storage for the bulky charger that's so essential to extended periods of work. With this in mind, you might want to consider this a case you would use only for short trips out with your Surface -- if you're planning a full day away from home working around the clock, you'll need to carry the charger separately, or look to a different case.
On top of this, if you're the type of person who eschews the Surface's trackpad in favor of a mouse, you may be disappointed to find that there's not really room to carry such a peripheral in the case. You could slip a mouse into one of the various pouches, but this would ruin the sleek lines and run the risk of damage. To help overcome this, Inateck includes a small mouse-sized secondary pouch made of the same felt as the main case. This is a nice touch, but at the same time, it's slightly annoying to have to carry something extra.
For all the talk of Surface, there's nothing to stop you from using the case to house other tablets. The 33.5cm (13.1 inches) by 23cm (9 inches) dimensions are quite accommodating, but there are also specific versions available for 15 inch Macbooks, iPad Airs and iPad minis.
There's an MSRP of $38.99, but at the moment it is possible to buy the sleeve with a $22 discount. Hit the Inateck website to order yours.