Kickass Torrents is the latest victim of a domain name seizure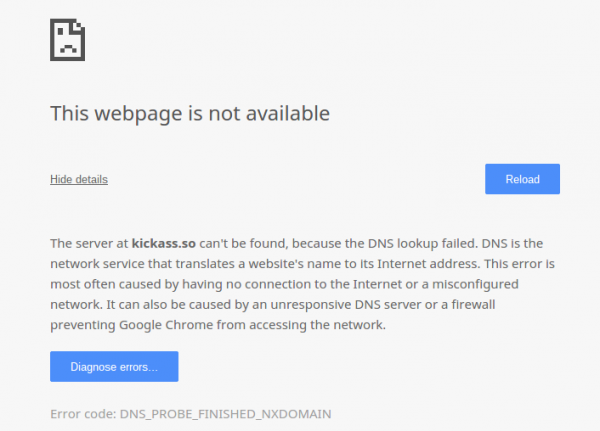 2015 is still relatively young, but we've already witnessed plenty of action. Torrent sites like The Pirate Bay and EZTV have been taken down, only to resurface. EZTV made a very quick reappearance, while The Pirate Bay took a bit longer to recover, though its comeback always seemed inevitable. Today we can add another site to this list -- Kickass Torrents has had its domain seized.
Being one of the most popular torrent sites on the web, it was always a major target. It most recently resided in Somalia -- pirate jokes aside, this seemed like a safe haven. Apparently it has become even less safe than it is for the ships that sail by the African nation.
As of this writing, the site is non-existent -- no weird messages from a government or anyhting like that, it just doesn't resolve, resulting in the following message:
"The server at kickass.so can't be found, because the DNS lookup failed. DNS is the network service that translates a website's name to its Internet address. This error is most often caused by having no connection to the Internet or a misconfigured network. It can also be caused by an unresponsive DNS server or a firewall preventing Google Chrome from accessing the network".
With the return of The Pirate Bay this may not seem like the end of the world, but it was a very popular destination and its loss will hurt some people.
However, there is some good news. TorrentFreak is reporting that the service already is planning its comeback, moving back to its old Kickass.to domain. Like its brethren, the site is likely to stay one step ahead of authority.
Photo credit: Jonathan Cooke/Shutterstock