EZTV packs its bags and moves to a new domain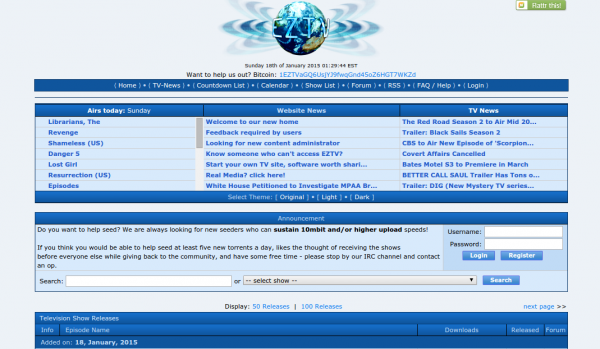 Torrent sites have been on the run lately, with raids and all manner of filtering by governments that are trying to control the internet. It doesn't work, as the folks who want access bad enough know the ways around these things. Two of the latest victims were The Pirate Bay and EZTV. The former remains dead, though signs of a comeback are present. The latter wasn't down for long following the raid.
EZTV made a quick comeback, but problems have continued for the service, as Italian authorities closed in on its .IT domain. This has forced the organization to pack up shop and make a move to a new country where things will, hopefully, be calmer.
The old site, EZTV.it, has fled to Switzerland, where it now resides under EZTV.ch. According to TorrentFreak, "Over the past several years it has maintained a steady user-base and with millions of users it's undoubtedly the most used TV-torrent site on the Internet today".
It's an alert to those who try to stop these things. Shutting down or blocking access only serves as a deterrent temporarily. Those who wish to find a way around will -- both the sites and those who use them. It's a ridiculous game that the MPAA and governments will never win. It's only a matter of time now before we watch the next move in this chess game.