OnePlus One -- the flagship killer -- to sell without invite every Tuesday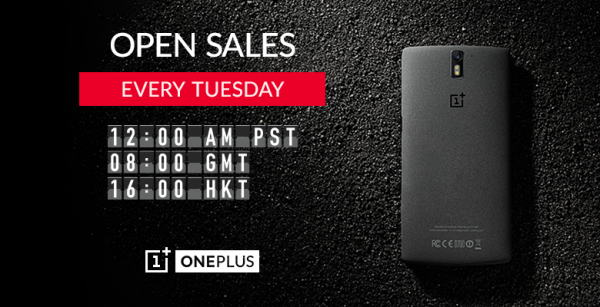 Chinese smartphone manufacturer OnePlus made a big splash last year with its OnePlus One flagship smartphone. The handset packs in the best in class hardware specifications while maintaining an enticing and comparatively cheaper $300 price tag. The phone -- which is often touted as the "flagship killer" -- however, garnered press for another reason: for just how hard it is to purchase the darn handset! But here comes the good news, OnePlus is finally cosying up with the way it sells handsets, making it easier for consumers to purchase the One.
The company sells the handsets through an "invitation" model wherein it requires a customer to have the invitation code before an order can be placed. If that wasn't confusing already, the invitation is also pretty hard to collect. Among other ways, one has to take part in the company's social media contests and share OnePlus related updates on their social media accounts. But those days are finally behind us...at least for one day a week. In a blog post, the company has announced that it will no longer ask users for an invitation on Tuesdays.
The move indicates OnePlus' growing effort to make the device easier to purchase. It is also likely to improve sales figures of the One. OnePlus confessed that it realizes that the purchase model it has in place to sell its handset isn't particularly pleasing the consumers. The company announced last year that it had shipped more than 500,000 units of One since first releasing the handset in June. It also announced its aim to double the figure in within weeks. Selling the handset sans the invitation code is a right move towards it.
"Every Tuesday, we will open up sales for 24 hours, starting at 8 am London time (midnight in Los Angeles; 4 pm in Hong Kong). The OnePlus One will be available without an invite in both 16GB Silk White and 64GB Sandstone Black". the company notes.
This new model, however, won't be applicable at all the places, it seems. The countries that can avail OnePlus' invite-free Tuesdays include: United States, Sweden, Denmark, Netherlands, United Kingdom, Spain, Germany, France, Italy, Finland, Belgium, Austria, Canada, Hong Kong, Taiwan, and Portugal. For interested users in India, the company will be putting the handset up for grabs invite-free for "one-time" on February 10 starting at 10AM IST (GMT +5.30). The sale will continue until the stock lasts. Interestingly, Xiaomi's Mi 4 handset, which the Chinese smartphone manufacturer launched in India last month, will also go on sale tomorrow.