Dropbox 3.2.4 FINAL supports opening files from web, updated File Explorer shell extension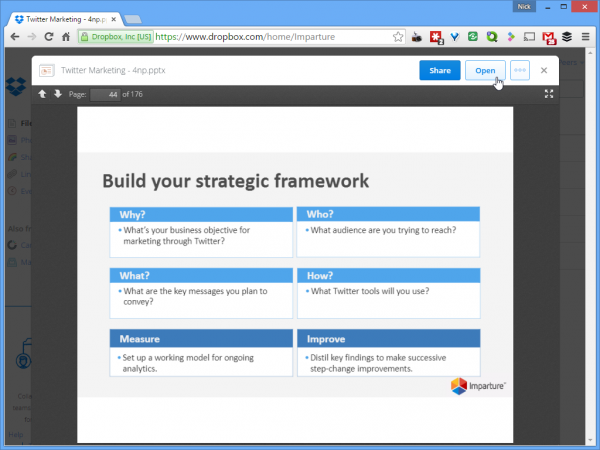 Dropbox has unveiled Dropbox 3.2.4 FINAL, the first stable build in its 3.2 series for Windows, Mac and Linux. The cloud backup and sync tool gains a number of new features and improvements with this latest release, which needs to be manually installed on some platforms.
The update's headline feature is support for opening files locally directly from the web. Windows users also get a new File Explorer shell implementation, while OS X users gain improved network proxies.
The major new feature allows users to browse their Dropbox folder in a supported web browser and open files directly from the browser window. If certain prerequisites are met, after clicking a file to preview or view available options for it, users will see an Open button appear in place of the Download button. This then links to the locally stored copy of the file, which is opened in the usual manner for editing.
The requirements for this new feature are: Dropbox 3.2.4 must be installed and running, all local files must be in sync, and users must be browsing using a recent version of Internet Explorer, Chrome, Firefox or Safari -- we also tried the feature in Opera, but it didn't work.
Windows users also gain a new implementation of Dropbox's File Explorer extension, which should now work as it did in version 3.0 or earlier -- right-click a file inside the Dropbox folder to reveal available options.
OS X users gain support for automatically discovered and auto-configured network proxies, while version 3.2.4 also fixes a number of Linux-specific tray icon issues. Certain window managers remain affected, but Dropbox promises additional fixes will appear shortly.
The update is rounded off with connection sharing support, which comes with the promise of lower latency.
Dropbox 3.2.4 is available now as a free download for Windows, Mac and Linux.