Watch the 2015 Cricket World Cup on Roku, India and others compete for the title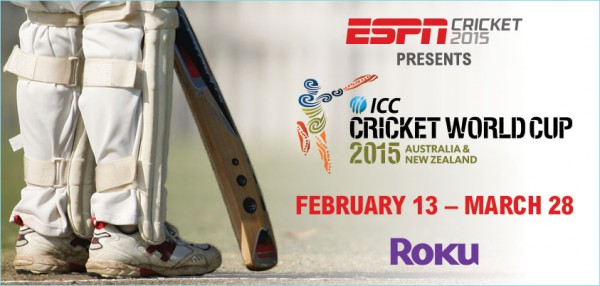 Sports fans can rejoice, providing they prefer Cricket at least. The event may seem foreign to US viewers, but to much of the world it is a big deal, and the world cup is something special. If you are looking to catch all of the action then Roku has your back covered.
The tournament kicks off on February 13th and runs through most of March. The event is being held in Australia and New Zealand, but teams from around the world will compete. Things start with Sri Lanka pitted against New Zealand, a match that takes place at 5pm ET on opening day.
"We're proud to be the only connected-TV device that's featuring the ESPN Cricket World Cup. Can't make it to Australia and New Zealand? Now you don't have to miss the action! Roku customers in the U.S. can stream the ICC Cricket World Cup 2015 on their big screen from the comfort of their couch", says Steve Shannon on Roku.
As you likely guessed, this isn't free. You'll need to pony up $99 to watch the event. However, in exchange you get "access to live and on-demand coverage of all 49 matches in the quadrennial tournament in the world's second most popular sport, direct from ESPN". According to Roku, that is over 390 hours of Cricket. Get your caffeine ready.