Bodhi Linux 3.0.0 is here -- download the Ubuntu-based distribution now!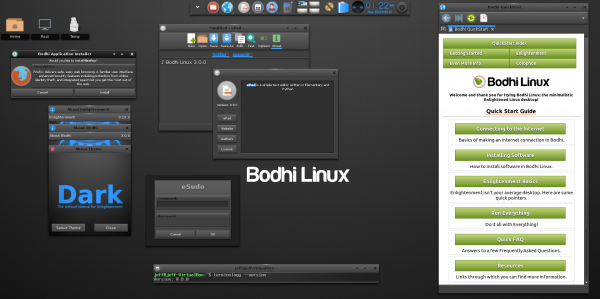 There are many Linux-based operating systems nowadays, making it difficult to pick one. This is a good problem to have, however, as trying new distributions can be fun. Unfortunately, many are so similar, that you can end up wasting your time.
One alternative distro may be worth the time and effort; Bodhi Linux. Since it is based on Ubuntu 14.04, there is less of a learning curve for users of Canonical's OS. What really makes it stand out, however, is the Enlightenment window manager, which is lightweight, functional and pretty.
"Our stable release is not the only thing that is new at Bodhi Linux this month. Our main website, AppCenter, Wiki, and Forums have all gotten complete overhauls to go along side this new release. A big thank you goes out to our Web Admin, Sys Admin, and the community populating the fresh wiki for all of their hard work", says Jeff Hoogland.
Hoogland further explains, "if you are new to Bodhi Linux please take a look at the Quick Start Guide that opens by default when you first boot the LiveCD / Operating System. It covers many questions new users have and odds are will save you any confusion you might have while getting to know your way around Bodhi. Should you encounter any issues with your Bodhi Linux 3.0.0 install you can request support on our user forums".
Jeff Hoogland lists the following major changes
Enlightenment E19.3
Terminology 0.8.0
ePad 0.9.0
Numix Icons
Linux Kernel 3.16
Ubuntu 14.04 LTS Core
What is particularly cool, is that besides the typical UEFI 32-bit and  64-bit ISOs, Bodhi also offers releases for legacy hardware (non-pae) and Chromebooks/Chromebox (Seabios).
If you are interested in trying Bodhi and the Enlightenment window manager, please download it here.
Tell me what you think about it in the comments.